Everyday Ready Concealed Carry Considerations
Everyday Ready: Concealed Carry Considerations Everyday carry can encompass much more than the weapons you use for self defense.
I won't go into the specifics of why you should carry a firearm or an edged weapon daily. My goal is to give you my background and how I've come to carry the way I do. I'm going to give you context on why I feel as strongly as I do about not just carrying, but having the training and will to act when it's required.
Here are four things I've learned from carrying on the job and in everyday life.
Don't think of EDC as weapon's-only: Carrying the means—and cultivating the skills—to treat wounds in the field can be just as important.
After serving with the Marines, and starting my career in law enforcement, I joined my department's sniper team. I know what the title of "Sniper" brings up in people's minds, but a lot of what I did as a LE Sniper was hiding in plain sight. I often dressed down while carrying the absolute minimum on my person while still having to conceal a Glock 21 with Surefire X300, a spare mag if my costume or camo allowed for it, and at a minimum, a Tourniquet: If you are carrying the means to make wounds, you should also have the means to fix said wounds. And please, please take your tourniquets out of the wrapper. Or, go soak your hands in water and dish soap and try and take your tourniquet out of the wrapper after running in a dead sprint for 30 seconds: It's tough.
Think of your EDC loadout as a work in progress: Make changes as needed to ensure your gear fits your life and your applications.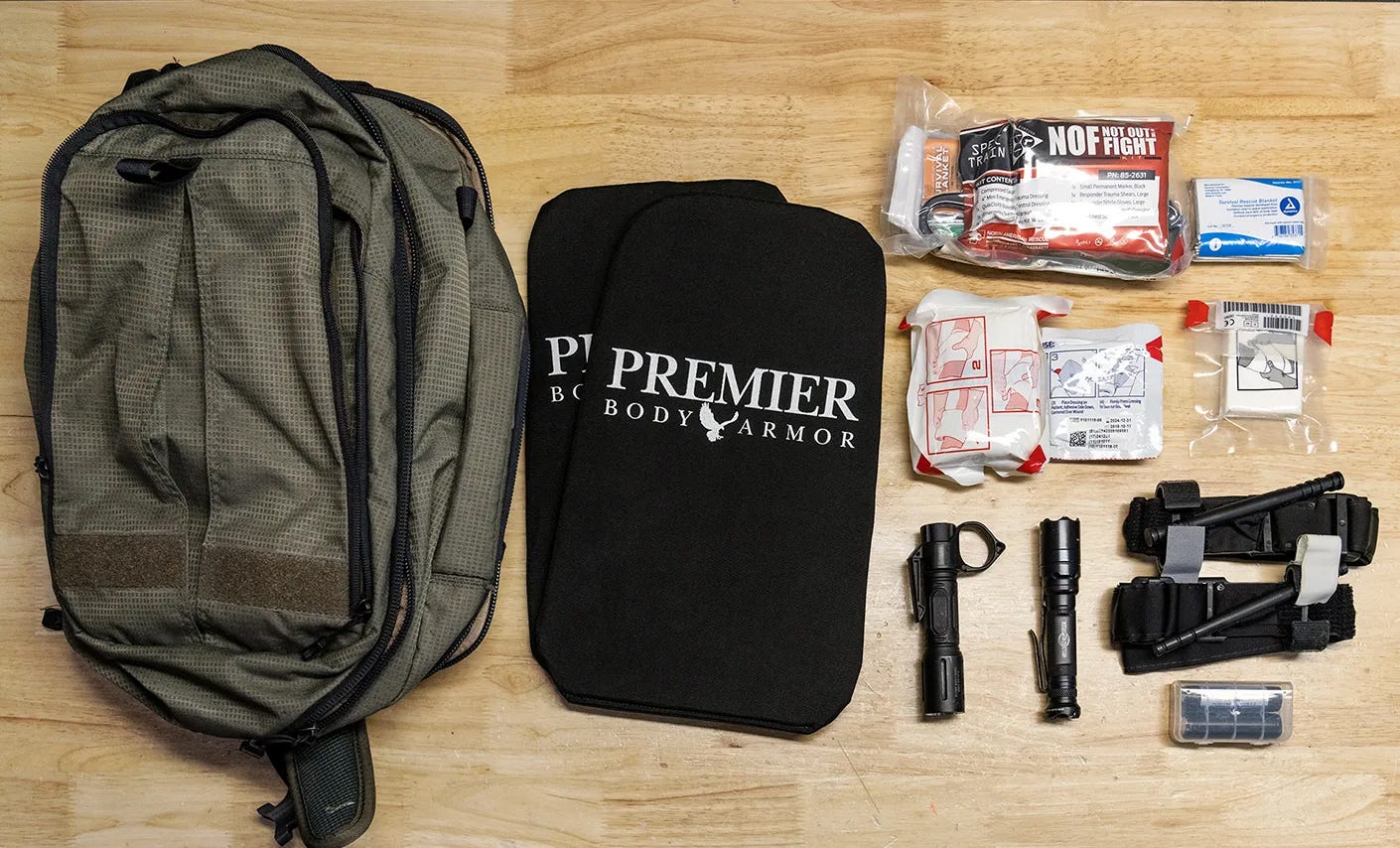 Weapons aren't the only important part of your everyday carry: If you carry the means to make wounds, you should carry the means to treat them.
When I was in the process of separating from Law Enforcement and I started to lookup the cost of a case of .45 cal, I started to see that .45 was not in the stars for me moving beyond my LE time. After a ton of research and seeing ballistic testing for myself, I landed on 9mm. My first pistol purchase a day or two before I officially turned in my badge was a Glock 19 Gen 4 chambered in 9mm. I no longer had a team of SWAT medics on standby or the best operators I ever served with there to back me up. I was my back up and I was my own medical plan.
Along with carrying my 19, I looked at upgrading my holster and went with an Appendix Inside the Waistband (AIWB) solution that had a spare mag holder built in. I also ran a Neomag magnetic pocket mag holder that allowed me to carry a spare mag and not just have it bouncing around in my pocket. I still caried an edged weapon of some sort and I've mainly stuck to folders. Many on the interwebz make the case for carrying a fixed blade and I get it; however, I find it easier to carry and have no issues deploying my knife when I need it.
I tend to carry my folder, which is a Toor Knives Phoenix, in my rear weakside pocket. I do that because I can get to it with my left hand as well as my right and if I ever find myself in a fight for my gun, I will likely pin it to either my strong side hip or deep into my appendix holster with my right hand, and go to my knife with my support hand, understanding that I must put the reps into being able to deploy my knife with my weak hand.
I have found that the older I get and the more I work out, I can get away with carrying a larger-framed handgun. My current carry consists of a Glock 45 MOS chambered in 9 mm which has a Vortex® Razor® 6 MOA red dot and a Surefire X300U-A and a spare 17 round OEM Glock mag that I outfitted with a Zev +5 base pad holstered in an appendix holster. I also have a Neomag with an additional magazine and carry a total of 62 124 Grain Federal HST rounds. I also carry a Modlite PLHV2 handheld that has a Thyrm ring. I cannot stress enough how important it is to have a good, dependable handheld light independent of a weapon mounted light. My handheld light is what I use the most in my day to day, next to my folder.
All the planning and thinking in the world means nothing if you don't regularly train to defend yourself and use each part of your EDC loadout.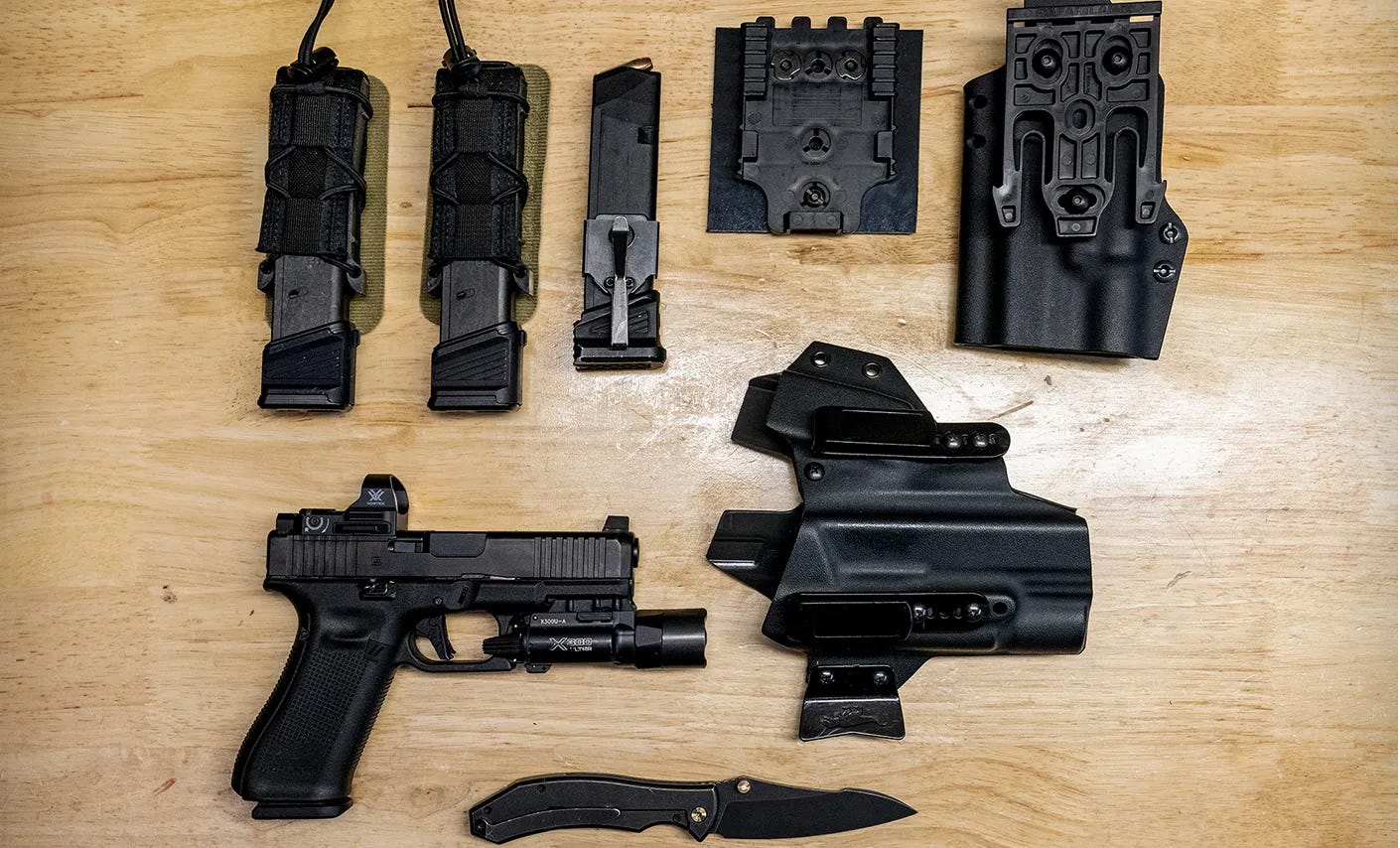 The first thing many people think when they think of everyday carry is a handgun optimized for self defense. But you should also take some time to find the right holster for your body type and use. And, whatever weapons you choose to carry, put in the hours to learn how to properly and safely use them.
Prior to landing on a carry solution for yourself, do your homework. Once you land on a setup you like, train with it. I spend at least 10 minutes a day not just drawing my handgun from my AIWB holster but getting to and deploying my folder, getting to and applying a tourniquet. I keep a blue trainer or an old tourniquet just for training reps separate from the one I carry daily. You must put the reps in getting use to the stuff you carry.
There are times and situations where I will carry off-body in something like a sling or two strap style bag. I'm a dad and end up being the mule for diapers, apple sauce, fruit snacks, water and chocolate milk. That said, I like carrying a sling style bag such as the Vertx Transit Sling 2.0. It has compartments that allow you to carry your handgun holstered, spare ammo and all the med gear you could ever want. I also slip 2 armor panels from Premier that allow me to open the bag compartment flaps all the way and take advantage of both panels and cover more surface area. I can get away with throwing the bag over both kiddos and having them be relatively covered.
I prefer the single strap off-body carry bag due to the bag being easy to draw from and bring to the front of your body. The armor inside of my bag also stays put and so does my spare mags after a draw. One downside I have found that after about a mile into a family hike, the single strap does start to make life painful. I'll carry off-body in situations such as when I'm going to the gym or on a run/hike, in situations where I am layered up or cold weather or in situations where I'm going to be pushing a stroller or times where I'm driving for an extended period and appendix carry starts to suck. Once more, it's very important to train in deploying your Everyday Carry (EDC) from an off-body solution.
Online research is great, but your own experience is greater. Carry what works for you.
To wrap things up, don't just invest in something because influencer A is running something. Do your homework and have a reason why you are carrying or running everything you go with. I have had to carry concealed in environments with active threats and in passive environments where no one was the wiser. ID your mission and train for it.
For me now, after hanging up the cool guy boots, its being a husband and dad and ensuring we all make it home. Train so that nothing stops you. Train hard, stay safe and see you on the line.
It's our hope you can learn and laugh along with the expert voices we feature on this blog. We want to be clear that the opinions you see featured here are just that: opinions. The content belongs to the authors and is not necessarily the opinion of Vortex Optics.
To learn more about what you've read, please like, follow, and otherwise support our authors.