Getting the Most Out of Competition Guns
Getting the Most Out of Competition Guns
Getting your gear to work overtime
No doubt about it, getting into competition shooting can be a big investment. The right gear for the job often comes at a price, but what I have found is if I go with equipment that can pull double duty for me, and work for more than just my competitive events, the expense is far more tolerable.
Getting the most out of your rifle
Let's start with the rifle. I run an 18" JP Enterprises PSC11 which is perfect for the 3 Gun game. With the 18" upper, I get the rifle-length gas system for super soft shooting and extreme accuracy with the right ammo. I prefer a LPVO on these guns for my matches and am running the Vortex® Razor® HD Gen III 1-10 with the BDC reticle.
While all of this makes it shine in competition, it gives me more than just an edge in my matches. This same rig can drop a coyote, fox, or other small predator out to 500 yards, and I love it for pesky woodchucks in the yard. It shoots like a dream, and because I put all that time in training with it for competition, when I shoulder it in a hunting scenario my confidence level is through the roof that I will be able to execute the shot when needed.
Getting the most out of your pistol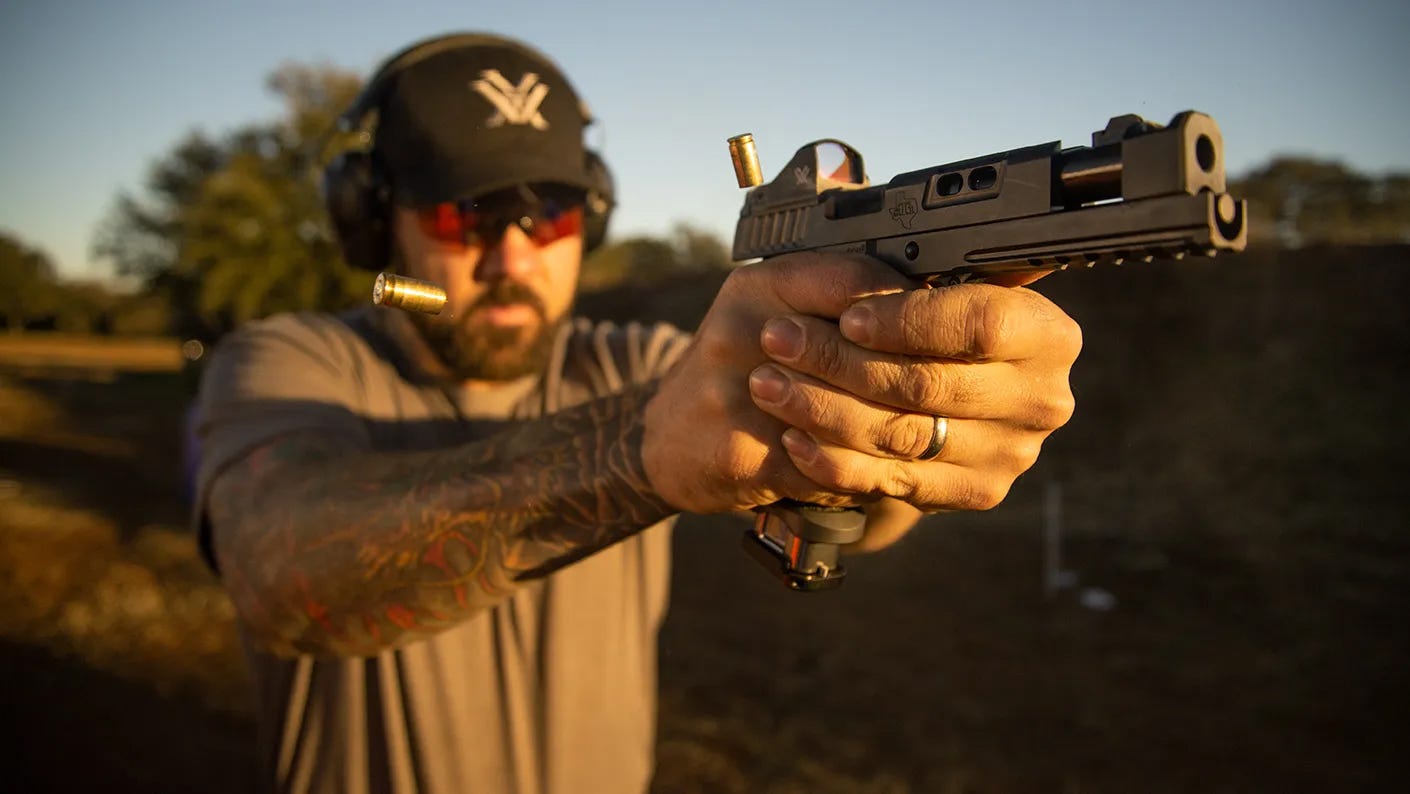 In a similar way, my match pistol pulls double duty. I run a Staccato 2011 pistol with a Vortex® Viper® on it for 3 Gun matches and shoot targets in events out to 200 yards from time to time. Shooting this gun weekly with high volume gives me a ton of confidence and speed behind the platform.
I have a number of carry gun options, but when I feel like having a high capacity red dot pistol on my hip I pull the big race magwell off the gun and carry her in an IWB Weber Trifecta holster and know I can make just about anything happen with this gun. (Want to read more about competition skills translating to self-defense sklills? Check out this blog.)
Getting the most out of your shotgun
Shotgun is another great example of how these guns can fill multiple roles. While I shoot a highly specialized Dissident Arms Molot Shotgun for competition that has 20 round capacity and runs like a top, it could certainly play double duty as a house gun. This thing would be a perfect defensive platform with a 12-rounder full of buckshot, and it could definitely do the job of defending my family while giving me an edge in my matches at the same time.
It's all about confidence
While it's safe to say none of these weapon systems is a "budget" gun, I still want to get the most out of my investments. I prefer my guns to play several roles so I can get the most out of my purchases and my training as well. Using competition guns for other jobs simply puts a gun in my hands for hunting or defensive purposes that I am confident with, and can perform well with, when the need arises.
If you want to learn more about getting the most out of your competition guns, check out this podcast on getting started in 3 Gun on a budget. Want to sharpen up your shooting skills in the comfort of your own home? Check out this blog on getting the most out of dry fire drills.
It's our hope you can learn and laugh along with the expert voices we feature on this blog. We want to be clear that the opinions you see featured here are just that: opinions. The content belongs to the authors and is not necessarily the opinion of Vortex Optics.
To learn more about what you've read, please like, follow, and otherwise support our authors.