Interview with The Untamed
Interview with The Untamed
We sat down with Josh Ilderton and Kirk Price from "The Untamed" to discuss their passion for hound hunting, sharing their love of the outdoors, and the best ways to eat big cats and bear. For more from the Untamed, checkout their YouTube channel.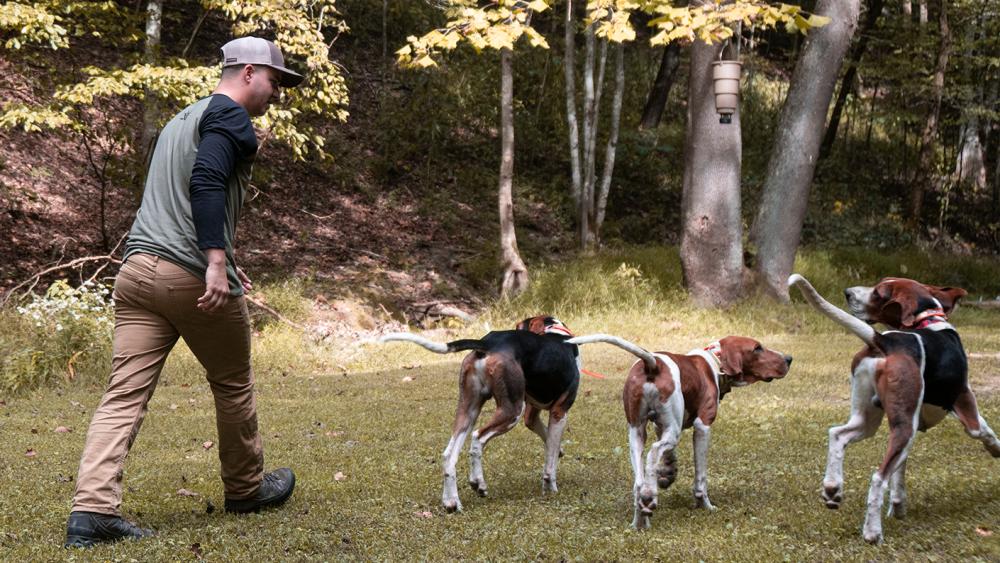 What does it mean to be a houndsman?
Josh:
Commitment. Passion. To watch your dog's success from pup to finished dog. Family. Camaraderie. Those are the things I think of when I think of being a houndsman. It's not something you can just do a couple of days. Maybe you can do that if you're just tagging along with somebody, but it takes a lot of passion and a lot of commitment. They're going to work for you just as hard as you work for them. They're going to try and make you as proud of them as they can.
Kirk:
It's a lifestyle commitment. It doesn't just stop. You can pick up a bow whenever you want, and you can go hang tree stands whenever you want. But with this, it's 24/7. It's something that never ends and if you're gonna do it, you've got to be fully committed to it.
What's it like when your dogs start up? When they get on a track?
Kirk:
There's definitely excitement, but you're also anxious, because you're not sure exactly what's about to happen. You're assessing the situation, sometimes looking for a track, and you can even tell by the intensity of how they're barking, or even which dog is barking, what you should do next.
You guys hunt deer and other game without dogs in addition to running hounds. How different does it feel to run hounds on cats and bears?
Kirk:
There's more of an adrenaline rush on the hound hunting side of things. They both [deer and hound hunting] obviously take a ton of preparation, and that's one misconception with hound hunting: People think we just turn out any dog, and that any dog can do what these dogs are doing. They don't see the time that goes into it, the breeding.
Do I get scared? Yes I do. We climb back into holes in the mountains because we have multiple dogs go in those holes after bears. So, yeah, we're climbing back in there and doing stuff your average white tail hunter might never imagine doing.
What do you carry in terms of first aid for your pups?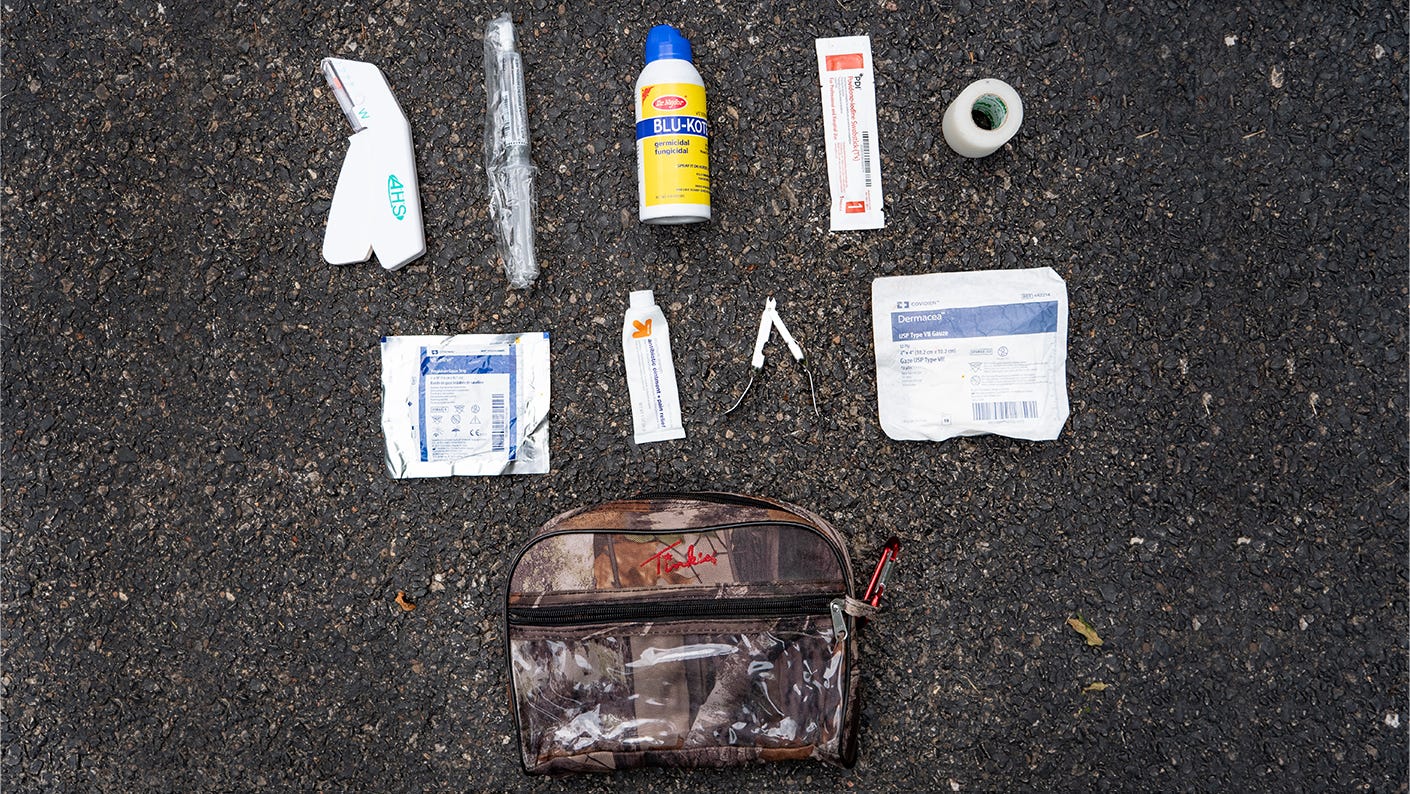 How often do you hear from people who are against running hounds for dangerous game?
Kirk:
I've never heard from somebody in person; I've never had somebody see my dog box and come at me, but a lot of that is because of where we're from. But as far as YouTube goes, it amazes me how many people we have say, 'I'm a hunter, but …" Anti-hunters love reading that. They love seeing your own kind turn against you, and that'll be the comment that gets liked the most and pushed to the top. I almost don't want people seeing that, hunters who are against a form of hunting they know nothing about.
Josh:
They're against it because of experience: They don't have the experience, nor are they willing to go out and try it. Take Kirk as an example: Three years ago, he'd never hound hunted in his life. Had all these ideas about what it was like. Now, he's an accomplished houndsman. He's got his own pack and he trains them, takes care of them, gets them all their shots and keeps them up to date. Three years ago, he'd never done it before, but once he did it, and once he realized that it wasn't what he'd heard through other hunters or just assumed, now when I see him as a houndsman, I'm seeing him totally happy.
Do you try to engage with anti-hunters?
Kirk:
We do engage, but it comes to a point where how many times do we have to continue to say the same things over and over and over? I'm against deleting comments [on YouTube] and I want to let people say what they want. But, it gets to a point where we feel like we're constantly having to defend what we're doing. And I know we have to do that, but for example, when we put out a deer hunting video, we're not constantly having to say, 'This is why we deer hunt.' We don't have to explain it.
I feel like I'm waking up every day and having to defend what I do. It puts me in a tough spot when I'm editing videos, like a bear video, because I make them for other bear hunters with the stuff they want to see. And then these other people come across our videos and all they see is us cutting dogs loose, a bear up in a tree, and us shooting it out. They don't understand everything else that goes into it. And it's hard to explain all that in every single video.
Josh:
We're not trying to change anybody's minds. But what we are trying to do is to showcase it in a manner that isn't going to hurt the hound hunting community. Me and Kirk, we're probably never going to sit over a bait pile and hunt bears. But are we going to bash those guys for it? It won't happen. And we have taken people out hunting, anti-hunters, and they've loved it.
What's the best way to eat a lion? A bear?
Kirk:
A few minutes ago, I was eating some bear in a dip my wife and I made. We'd taken it to a social event last night and people got to try bear and they couldn't believe how good it tasted. And my family loves bear burger. We do a ton of tacos with it. We'll also take a roast, and put it in an instant pot with vegetables, and it comes out delicious. It's just a good meat, all around.
Josh:
You eat the whole thing, but I'm a backstrap guy on the lions. You get a good size cat and it's got a hell of a tenderloin on it. We'll take a tenderloin and slice it up into boneless pork chops, and that's probably my favorite way to eat them.
What's the future like for hound hunting?
Kirk:
I feel like we're seeing more people wanting to come out and try. It is something that's tough to get into because it does take money. You got a $300 collar on your dog's neck, you got a $600 dog tracker, and you got to get out on land with leases because it takes a lot of room to hunt. People are always assuming that we got all this public land we're hunting on and it's not—Most of what you see is leased land.
Josh:
We're always under the magnifying glass; everyone is always looking at the hound community. But on the positive end, for instance, Montana just passed a bill that allows hound hunting for black bears. It's going back up for a vote in other states. I'm sure there's always going to be a fight, through legislation, to defend hound hunting.
Kirk:
Scientists use hunter success rates to gauge how many animals are in a certain area, and that information is used for management. The benefit, the money and information that comes in from hunting, you can't replace that. They use hunter success rates to say, for instance, 'Oh, there's a lot of cats here, we might need to thin them down because the elk population is getting low.' It all works together.
Tomorrow, hound hunting is made totally illegal. What would you miss the most about working with your dogs?
Kirk:
I'd be torn between the camaraderie of it—it's a type of hunting that's not about chasing the big buck, where it's just you and the buck—and training my dogs, developing my own dogs from pups to finished-out dogs. It's just such a huge part of our lives. Your kids are there for it, your spouse is there.
Josh:
I'd miss the early mornings at the gas station, seeing what the game plan was going to be for the day. The camaraderie is what keeps us all together. There's just nothing else like it.
Join "The Untamed" and Vortex Selects for an Arizona mountain lion hunt. [LINK]
It's our hope you can learn and laugh along with the expert voices we feature on this blog. We want to be clear that the opinions you see featured here are just that: opinions. The content belongs to the authors and is not necessarily the opinion of Vortex Optics.
To learn more about what you've read, please like, follow, and otherwise support our authors.