Let's Talk Burgers, Wild Game Burgers
Let's Talk Burgers, Wild Game Burgers
When you start talking about wild game burgers, the first thing people ask is how much fat—and what type of fat—do you add to wild game meat when making patties? I am here to tell you that I don't add any fat to burgers, and you shouldn't either. Here's why.
Adding fat usually means adding a domestic animal's fat into a wild animal ground. This for me is kind of counterproductive to what we as hunters are trying to do when we say we want to know where our meals come from. You have to add domestic pork or beef fat to your burger, and 99% of the time, that is store bought bulk fats or bacon.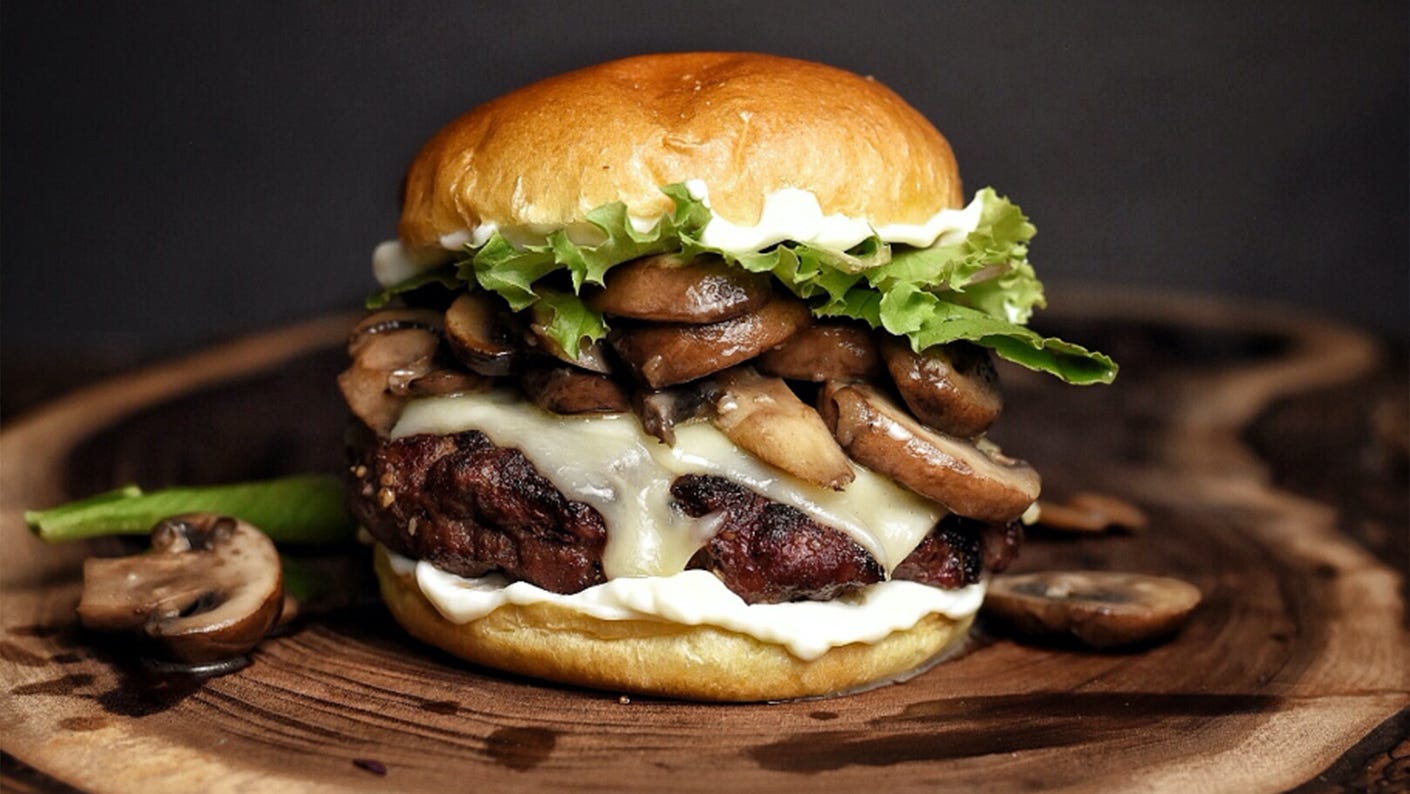 No added domestic fats in a wild game burger? Yup, and it'll grill perfectly with a few simple steps. Read on for a recipe that just might become your new favorite.
There is this huge misconception that if you don't add fat your burger patty will be dry and/or chalky in texture. Again, this is only true if you don't know how to handle or cook your burgers.
So how can we avoid using domestic animal fats and only use 100% wild game meat, yet still get a moist delicious burger? That's why I'm here; I'm here to help you. So, let's get into it shall we?
The Perfect Wild Game Burger
I am going to break down the perfect burger into three, easy-to-follow parts: Grind, Temperature, and Cooking. If you follow these three steps, you'll have a delicious wild game burger that will your family coming back for seconds and thirds.
Grind
If you take your meat to a butcher for processing, there are a few things you need to ask, and make sure they do.
Make sure it's just your game animal. Butchers are notorious for taking scraps from multiple animals and doing one huge grind. You can ask the butcher to just grind your meat separate, or even better, ask them to just put all scraps in a bag and you can grind at home.
If they are grinding it for you, ask for the largest grind plate they have, a #32 is a perfect grind. The bigger the grind, the meatier the burger. Most butchers will use a #22 or smaller, and it tends to leave you with almost a paste.
Have them package it flat, not in the ground meat tubes. When you stuff the meat into a tube it's like stuffing a sausage. You end up with a mushy meat, plus it thaws at different rates and this will lead to a mushy core.
Have them remove all silver skin and funk before the grind. If they don't, you will end up with a very chewy ground meat.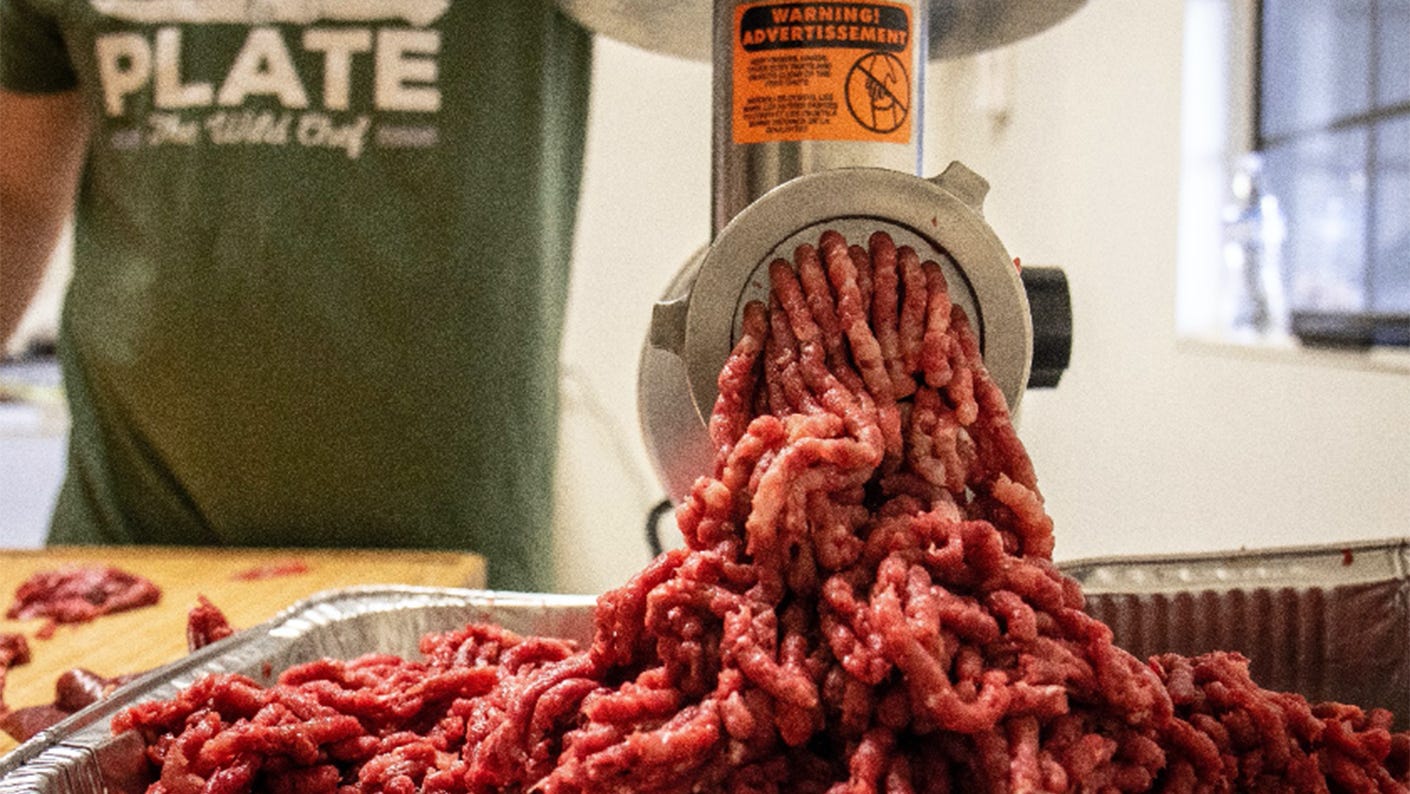 When grinding your burger, don't go too fine. A #32 is ideal, and if you can, get yourself a grinder so you can do the work at home.
I recommend getting a meat grinder and doing it at home, this way your hands are the only hands that are handling your wild game meat. You can take the time to make sure all the above steps are taken, and you will have a much better ground meat burger. You can get a good intro grinder for $100-200 bucks. It will pay for itself after the first deer.
Temperature
You want to keep the meat and grinder parts as cold as you can. I like to grind my meat while still 25% frozen. This guarantees the meat will stay cold. From there, I place in a glass bowl lined with paper towels and allow the meat to "drain" for an hour or so. This will take out any blood and water still retained within the meat.
Next, take the meat out and season to your liking. Make a meatball between the size of a baseball and golf ball. Get a square of parchment paper and smash the meatball down. Round the edges and keep pressing until it's 1/2ʺ thick. Set aside and finish the patties. Once they are all finished put them back in the fridge for 30 minutes. This is a key step. This step will allow the meat to form, all the fibers will meld together and keep your burger from falling apart. Unless you are doing a smash burger (smashing the patty onto a griddle or flat top) then this is a step you don't want to skip.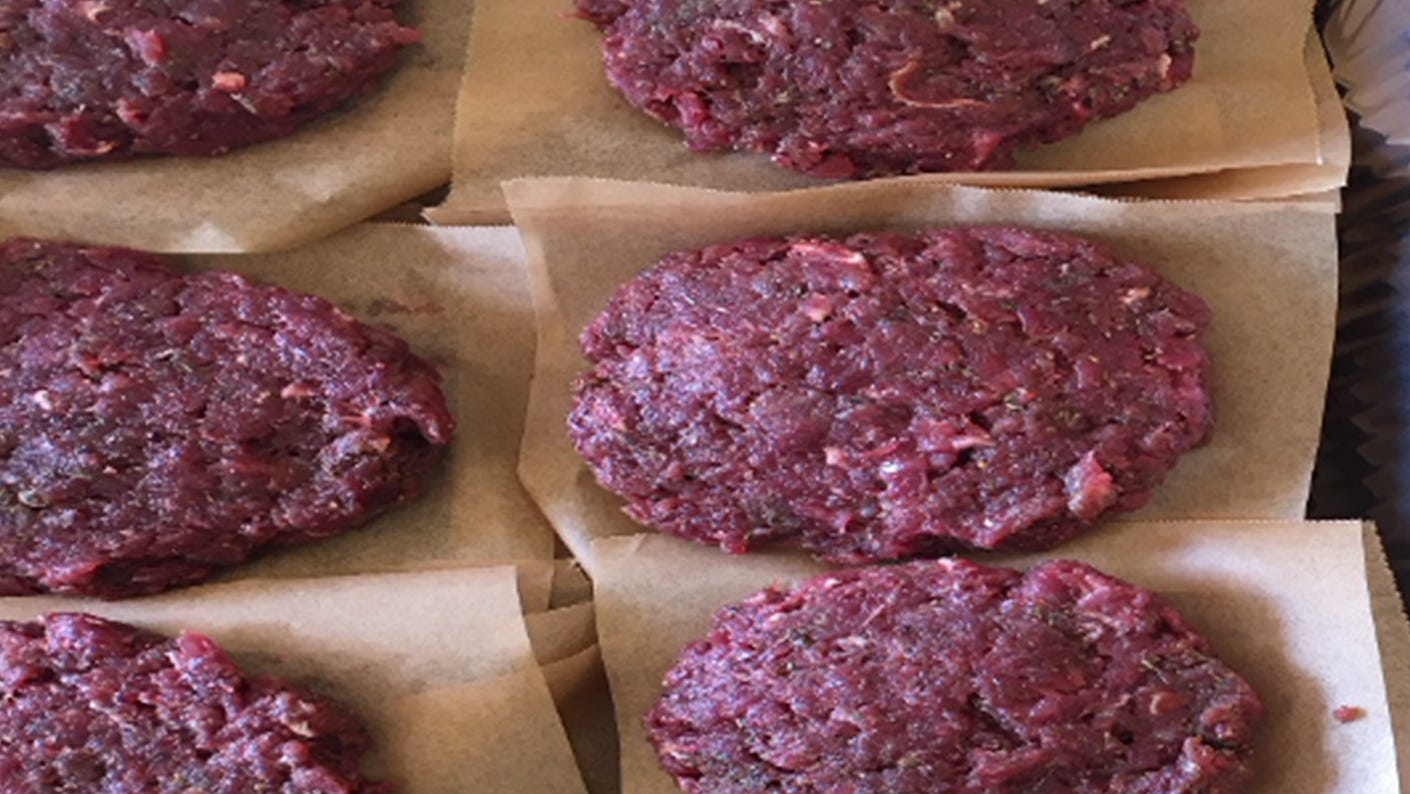 Once you've got the patties formed, remember to let them sit in the fridge for 30 minutes before cooking. This is a key step and helps the burgers hold together better.
Cooking
Get your grill hot, a nice med-high heat is ideal. You are now going to pull those patties from the fridge and place them directly on the grill. Once they are on the grill, you are not going to touch until you start to see the juices rising to the top of the meat and the sides start to cook. Once you see that, after about 5 minutes, then you're going to flip once, and once only. The more you mess with the burger patty the more moisture it loses. Once you've reached an internal temp that you're comfortable with, pull the burger patty and let it rest 1-3 minutes.
Common Mistake: one common mistake many grillers make is over cooking the meat. You want to eat these game burgers at medium; with the lack of fat they will dry out quickly. So, keep an eye on them and cook to medium.
Now that we have the foundation for the perfect burger patty, let's get into the perfect burger, shall we?
Wild Game Mushroom & Swiss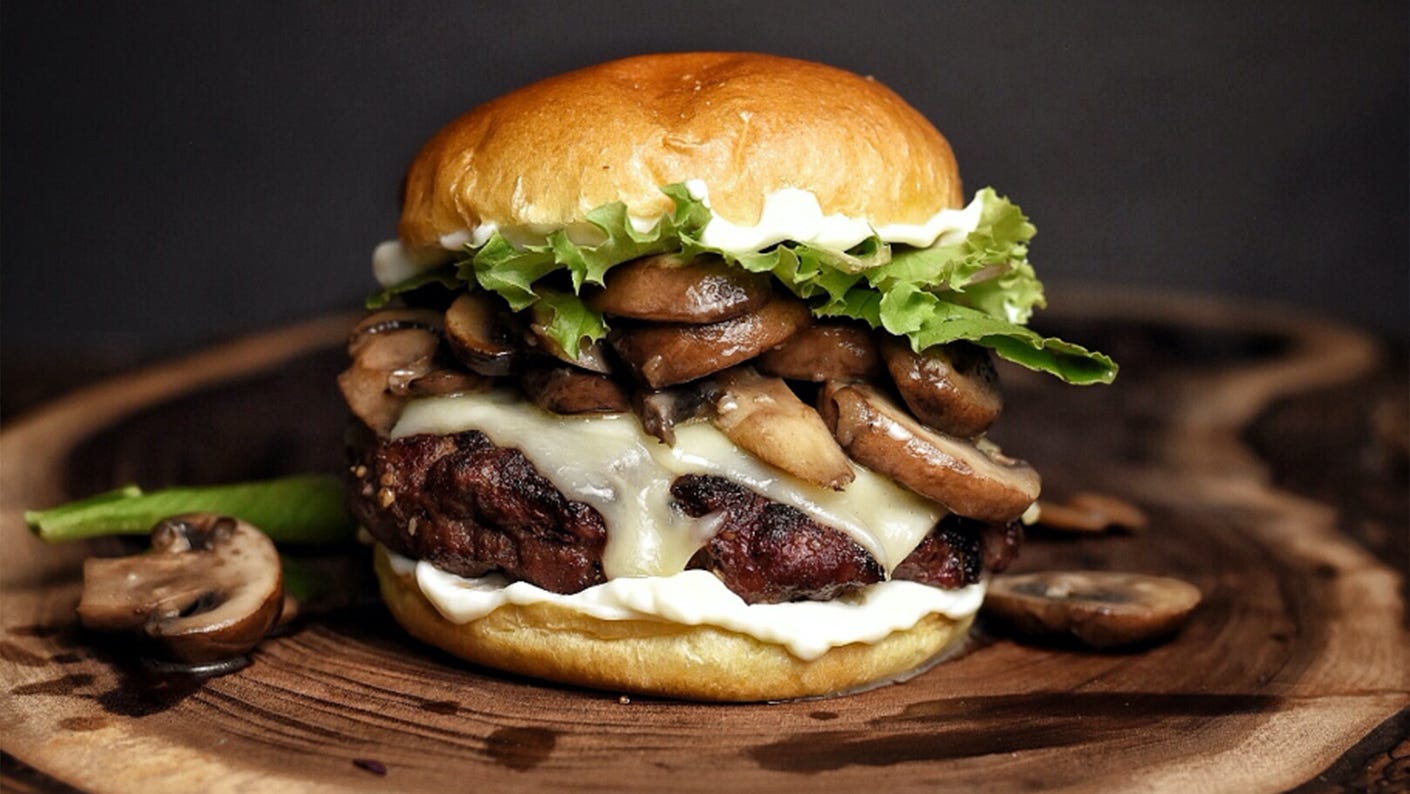 Ingredients: Patties
2 pounds ground wild game meat (Venison, Elk, Moose, etc.)
2 tbsp Garlic, minced
1 tbsp Worcestershire
1/4 cup onion, minced
1/2 tbsp cracked pepper
1 tsp paprika
1 tsp sea salt
1 tsp garlic powder
Ingredients: Mushrooms
1 pound baby portobellos, sliced
1 tsp garlic, minced
1/4 tsp salt
3 tbsp butter
1/4 tsp cracked pepper
Other:
Garlic mayo (mashed smoked garlic and mayo mixture)
Leaf lettuce
Buns
3 tbsp butter
Swiss cheese
Directions:
In large glass bowl, mix game meat along with all other ingredients.
Take a baseball size handful of meat mixture and roll it into a ball. On a piece of parchment paper toss the ball down. Once down, press down on the ball and, with other hand, follow along the sides to form a perfect patty. Continue until all patties have been formed. Place all patties in the fridge for 30 minutes before cooking. This is key.
Preheat grill to medium high heat.
Place the burgers on the grill and don't touch!!! Once they've cooked for 5-8 minutes flip once. ONCE. Add cheese after the flip. Pull patties, cover and let them rest 1-3 minutes.
While the burgers are resting, start on your mushrooms. Begin by melting the butter in a skillet. Add garlic and cook 30 seconds.
Add mushrooms, salt, pepper, and cook until mushrooms are soft, 3-5 minutes.
Build the burgers: Bun, garlic mayo, patty, mushrooms, leaf lettuce, garlic mayo, top bun.
Enjoy!
For more mouthwatering recipes, connect with Jeremiah on Instagram, or check out his content on Facebook. If you're interested in learning to hunt with a skilled mentor and chef as your guide, check out his Field to Plate classes.
It's our hope you can learn and laugh along with the expert voices we feature on this blog. We want to be clear that the opinions you see featured here are just that: opinions. The content belongs to the authors and is not necessarily the opinion of Vortex Optics.
To learn more about what you've read, please like, follow, and otherwise support our authors.