Lone Wolf Custom Gear's Cody D'Acquisto's Whitetail Kit - It Ain't Much
Lone Wolf Custom Gear's Cody D'Acquisto's Whitetail Kit – It Ain't Much
Fast, efficient, effective and a true lone wolf, Cody D'Acquisto consistently kills big whitetail bucks with a minimalist approach that would make most modern hunters embarrassed of their kitchen-sink-filled packs. In a world of Acorn Crunchers, scent sprays, Cough Silencers and Deer View Mirrors, Cody keeps things simple. His bare-essentials strategy makes him light, fast, mobile and puts him in position to send a perfect arrow – generally at near point-blank range, in thick cover, and less than 15 feet in a tree that may more appropriately qualify as a shrub.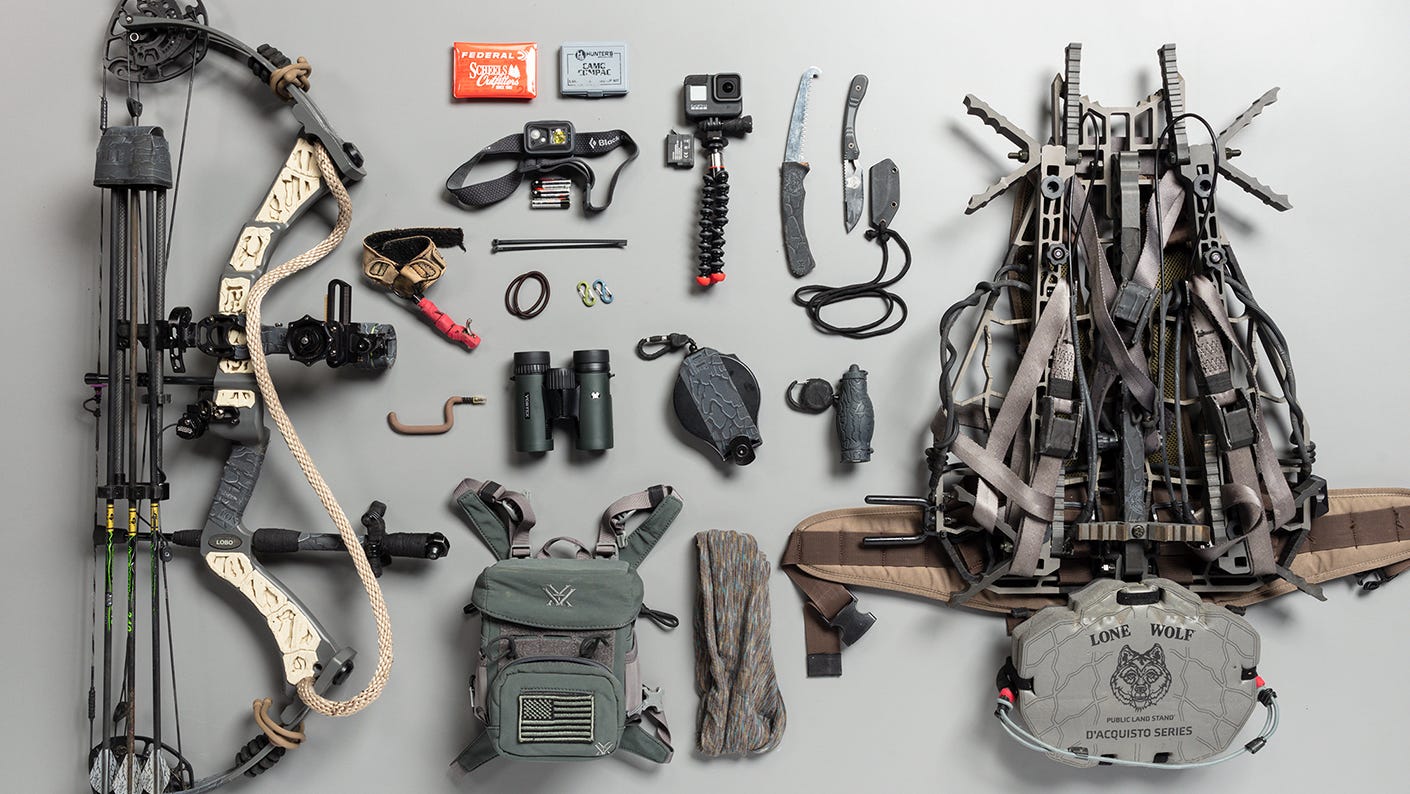 Below is a rundown of his kit.
Lone Wolf Custom Gear Lobo Bow (made by Darton): Circa 2019, Cody's bow isn't the newest, shiniest, arrow flinger on the block. In fact, it's been run through the ringer for years. Does Cody know his arrow weight and front of center percentage? Nope. Does he care? Nope. He knows it launches arrows accurately with pass-through penetration at ranges he intends to shoot.
Lone Wolf Custom Gear .5 Stand with two D'Acquisto sticks, and aiders attached: At 5.7 lbs., it's the smallest, lightest hang on LWCG makes. Sticks nest and secure for streamlined transport. Aiders are light and get you higher with fewer sticks. Stand doubles as a frame pack to get your buck out too. Smart.
Razor UHD 10x42 (not shown): Top tier optical quality can make or break a hunt. More often than not, Cody carries his UHD's.
Diamondback 8x32 compact binos in a Razor UHD 10x42 harness (Shown): Why does he do this when he can carry the optical masterpiece that came with the harness? Good question. For certain hunts, it gives him the optical quality and performance he needs on stand but leaves room in the harness for other kit. Everything Cody carries outside of his bow, stand, and sticks fits in the harness or the pockets of his more than likely everyday-wear pants.
Archery release: An old TruFire (he thinks). It still works, so why ask questions.
Battery pack: Keeps your phone charged for communication and GPS functionality.
Black Diamond Headlamp with extra batteries: Helps you find you way in and out – very important. It's good to be able to see in the dark and when working up an animal.
Screw in hanger: Small, lightweight, rubberized for silence. Can hang your bow if unable to utilize the LWCG bow holder due to obstruction. Great for hanging any number of items (grunt call, binos etc.) close at hand.
HS Face Paint: Cuts glare on your face for concealment and doesn't interfere with your anchor point./p>
Lone Wolf Custom Gear Wind Indicator: Dual chamber design holds powder on one side, milkweed on the other. Compass confirms the real direction the wind is coming from at your location, as well as may help you get out to out of woods. Rubberized for silence, caps are connected, and has a retractable carabiner for hooking to your bino harness or other easy-access point.
Hunting License/Tags: Required. Nuff Said.
Zip Ties: They just come in handy to fix things and secure items – like your deer tag once you punch it.
Hair Ties: An unassuming item making Cody's skelton-like gear list. Multipurpose, he uses them for fixing broken gear, strapping a lit to a tree and attaching harvest tags.
Baby S-Clips: Secures the bino harness to the seat of the treestand out of the way and within easy reach. Genius.
GoPro on JOBY Tripod: These are memories captured in time people! Small, lightweight, good for self-filming and secures to just about any branch or other attachment point.
Fixed-blade knife (Iron Will): Versatile, strong, simple. One knife to do it all.
Trim Saw: Removes pesky shot impeding limbs.
Retractable bow rope: Doesn't do much good to get in the tree without your bow. Hoists your bow, minimizes tangles, and is the final step once you've created the perfect ambush.
Buff: Neck warmer, headband, and facemask – all in one.
The common thread with all these items; they are reliable and there's not many of them. What more do you need?
Tune in to Vortex Nation Podcast episode 202 to get the full rundown on Cody's kit, his philosophy on deer, his hunting strategy, and some killer tips to help put your next big buck on the ground.
It's our hope you can learn and laugh along with the expert voices we feature on this blog. We want to be clear that the opinions you see featured here are just that: opinions. The content belongs to the authors and is not necessarily the opinion of Vortex Optics.
To learn more about what you've read, please like, follow, and otherwise support our authors.