Paul's Picks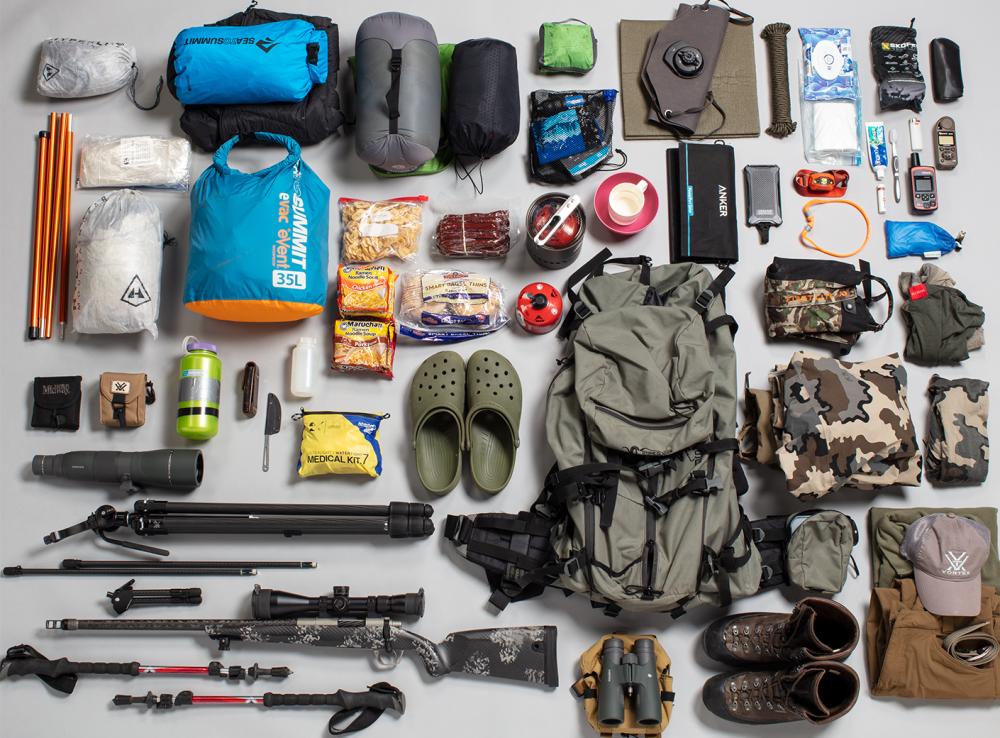 When I asked Vortex's Paul Neess for a bulleted list of the gear featured in this article's laydown shot, he replied he could get it to me that evening. The delay was excusable. Paul was on a giant Coues deer and unavoidably detained for the next few hours. As we say around here, "classic Neess."
Life-long hunter, adventure seeker, and former sheep guide, Paul lives life on God's green marble doing next-level things in next-level places. The knowledge and experience he's gained is immeasurable. Factor in he's tough as nails, never deterred but rather embraces the adversity of a challenging hunt, and you get one of the folks I respect most in the hunt space.
When it comes to gear, he's distilled his kit down through hard-won experience. If it doesn't work, it doesn't make the cut. Below are Paul's picks for a 10-day sheep hunt – a gear guide from a sheep guide you can trust. For a complete deep-dive into Paul's gear list, listen to the Vortex Nation Podcast.
First row, Left to Right
Hyperlite tarp for daily carry
Small blue Sea To Summit dry bag with extra clothing

puffy jacket
1 pair socks, 2 silk socks
1 merino underwear
KUIU – zip long johns, 1 heavy merino shirt, gloves, neck gaiter, raingear upper
Arc'teryx rain pants
Vortex beanie

Mountain Hardwear Phantom 15 down sleeping bag w/green dry bag
Exped insulated inflatable pad
Sea To Summit inflatable pillow
Sawyer Squeeze water filter
MSR Dromedary water bag
Closed cell sit pad
Paracord rope
Wet wipes & TP
Phone Skope adapter for cell phone/spotting scope
Sunglasses
Second row, Left to Right
Hyperlite Ultamid 4 tent w/ center pole and polycro ground cover
Blue Sea To Summit food bag w/examples shown – approx. 15 lbs. total/120 calories per oz./3000 calories per day

Dinners – 10 assorted freeze dried dinners multiple brands, 10 oz. olive oil
Lunch – Nuts, cheese, bagels w/PB, sausage, ramen, tuna, energy snacks, banana chips, granola bars etc.
Breakfast – Protein bars, oatmeal
Drinks – Energy mix, tea, coffee

MSR Reactor stove/pot w/two fuel canisters (one for heating shelter if needed)
Plastic bowl & cup
Anker small solar panel
Dark Energy battery pack
Ear pro one piece
Black Diamond headlamp w/new batteries
Toothpaste, toothbrush, lip balm, pocket lighter
In Reach satellite communicator
Hang bag & rope for food (if trees present)
Kestrel weather/ballistic meter
Third row, Left to Right
10 rounds in ammo in pouch
Vortex rangefinder (new prototype ????)
Nalgene water bottle w/ extra muzzle tape & small amount duct tape
Piranta knife w/extra blades in leather pouch
Kestrel Ti fixed blade knife
Small accessory bag containing minor first aid items, extra lighters & fire-starter, license/tags, medications, spare contacts etc.
Small bottle for olive oil (food)
Crocs camp shoes
Stone Glacier Sky Guide 7900 pack
Lower right quadrant - clothing on person
First Lite gaiters
Merino underwear, socks
KUIU/ Arc'teryx raingear (stored in top of pack readily available)
First Lite pants, KUIU merino top
Swazi lightweight fleece
Vortex baseball hat
KUIU belt
Kenetrek Mountain Extreme non-insulated boots
Lower left quadrant
It's our hope you can learn and laugh along with the expert voices we feature on this blog. We want to be clear that the opinions you see featured here are just that: opinions. The content belongs to the authors and is not necessarily the opinion of Vortex Optics.
To learn more about what you've read, please like, follow, and otherwise support our authors.