Pro Tips - 90 Days to a Better Western Hunt
90 Days to a Better Western Hunt
Congratulations, you're heading out west and adventure awaits you. If getting into shape has not been high on the priority list for you, GREAT NEWS, it's not too late.
If you check the calendar, you're about 90 days out from fall hunting, specifically if you're taking a bow. 90 days is more than sufficient when it comes to getting your body ready for the demands of a physical, out-west hunt. Regardless of if you're hunting out of your backpack, from a truck, or using horses to get into the backcountry, you'll need some degree of fitness. Fortunately, we have enough time to move the needle in the right direction with a couple of sweat-breaking routines and a little more attention to detail in the nutrition department.
To conquer the western hunting landscape—where elevation, weather, and terrain all come together to challenge you—it takes physical preparation and mental toughness.
First Steps: Get Sweating
If you're not sure where to begin with a fitness program, start by breaking a sweat every day in the name of better hunting. If you're looking for a workout program that does not require much equipment and can be performed in your garage gym or basement, checkout ElkShape's 90 Days to Freedom - it's a progressive overload program built to have you at peak performance by the end of the 90 days using movements anyone can do, regardless of current physical condition. Time spent hunting is finite so don't look back wishing you had been in better shape.
Ruck Up
It takes an incredible amount of energy to move through the mountains day in and day out. Most of the time in the mountains involves navigating steep terrain and moving from drainage to drainage in search of elk. Maneuvering your body with a pack—ranging anywhere from 30 to 50 lbs.—is no easy feat. In my twenty years of elk hunting, I would guess that a backpack has been snug around my shoulders for 80% of daylight hours in September: I think we could agree that ruck training on a weekly basis will be a key training tool.
Rucking doesn't require a huge time commitment, and you can mix up the intensity. Include one day of a heavier pack weight with elevation gain and loss. Another day, go at a slower and steadier pace while getting your body accustomed to the awkward load. The next variation would be to carry a lighter pack but move at a faster pace covering a lot more ground in a shorter amount of time. Consider this day more of an interval approach where you're not necessarily worried about how much the pack weighs, but how much country you can cover in a short amount of time. Perhaps a 3-to-5-mile hike round trip in or around an hour's time.
The last type of rucking I like to do is with a moderate weight but moving up the steepest and nastiest rocky or sandy hill I can find. Stadium stairs can do the trick if you lack options. I set a clock and every 5 minutes I hustle up the hill as fast as possible then slowly walk back down, repeating for 5-10 sets. It only takes me about a minute or two to get up and then safely get back down with just enough time to catch my breath before I do the next interval. This rendition is the most challenging.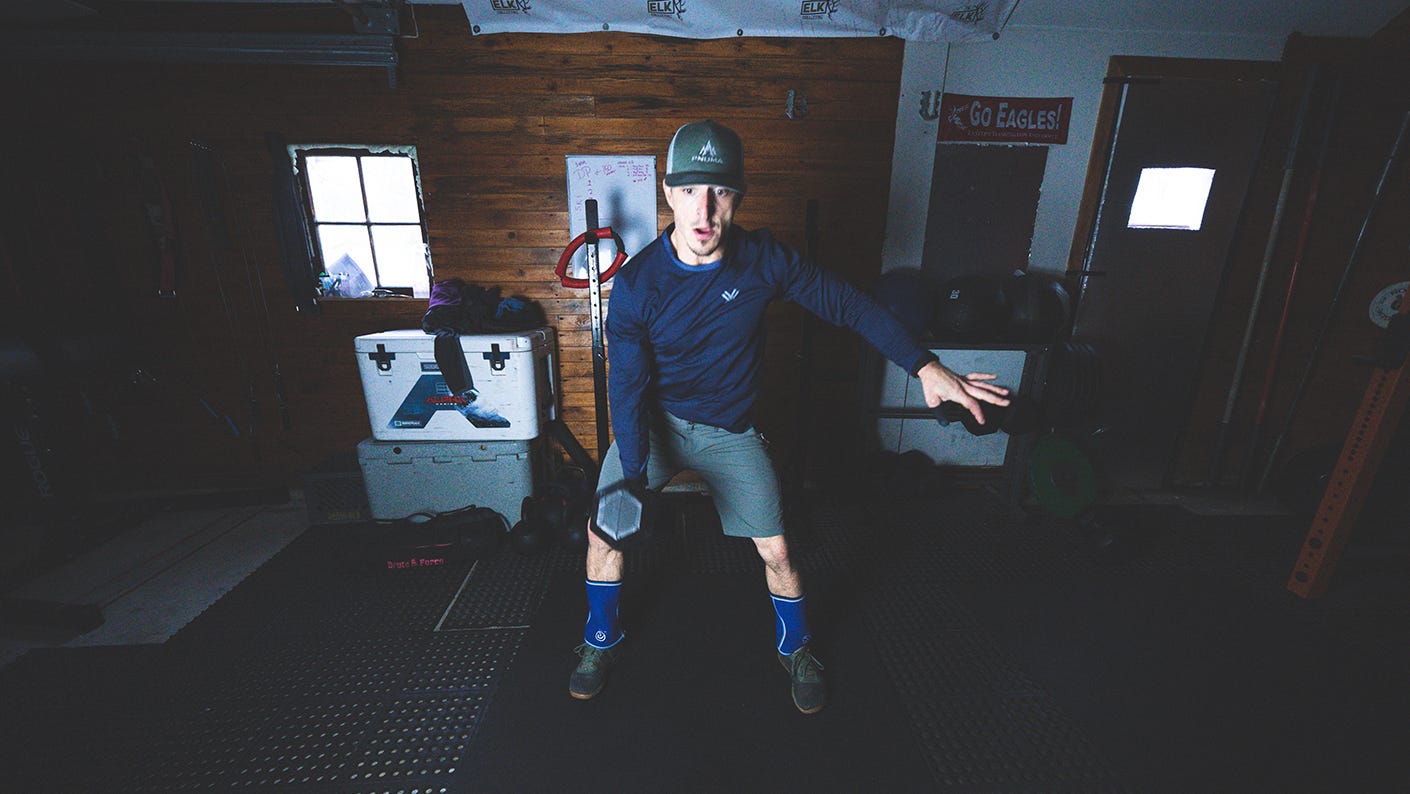 You don't have to have a gym membership, or a huge home gym. A lot of the work you need to get done starts with rucking and doing basic exercises you can perform right at home. (If you're interested in building a garage gym, here are some tips. For a workout program that uses only your body weight, checkout the 30 Day Bodyweight Program from Elk Shape – no equipment needed.)
Mountain Fit is Total-Body Fit
There's no substitute for backpack training. However, we cannot neglect the soft tissue, muscle, and supporting structures that provide cushion and balance around the joints: In addition to rucking, strength training will decrease your injury potential.
Training bouts can be anywhere from 20 to 40 minutes and should incorporate full body movements that invite the entire body to the party. When lifting, minimize rest by going straight to the next movement to invoke muscle fatigue with an elevated heart rate. Perform full body movements such as squats, deadlifts, and presses. These types of movements engage the whole body. By working the posterior chain (hamstrings, butt, and lower back) you are increasing the capacity at which your body can pull and push you up and down mountains.
(To learn more about physical prep, join Dan in ElkShape Camp for videos featuring lifts, nutrition, and inspiration.)
Hunt with No Regrets
The demands of hunting are rigorous. Hiking day in and day out can induce muscle soreness, achy joints, and mental fatigue. In addition to hiking with a pack, if you are fortunate enough to harvest your quarry, then you're looking at two trips minimum of hauling an even heavier load, and your gear, back to your truck safely.
Bottom line, hunting out west can be very physical. Coming into the season both mentally and physically prepared will leave you with less regret, and the confidence knowing you did everything you could. We spend a lot of time in anticipation of the hunt, don't squander your next adventure by showing up to the trailhead out of shape - you have 90 days left to get yourself ready.
Dan is a professional strength and conditioning coach with a background in exercise physiology and exercise science. He's also a very avid elk Hunter and he hosts ElkShape Camps throughout the US. You can learn more by visiting ElkShape.com or checking out the ElkShape YouTube channel.
It's our hope you can learn and laugh along with the expert voices we feature on this blog. We want to be clear that the opinions you see featured here are just that: opinions. The content belongs to the authors and is not necessarily the opinion of Vortex Optics.
To learn more about what you've read, please like, follow, and otherwise support our authors.