Staff Picks
WE ASKED BILL KRIVANEK, OUR IN-HOUSE EXPERT, WHAT'S IN HIS PACK. FIND OUT WHAT GEAR HE TRUSTS.
Bill Krivanek's Coyote Kit Breakdown
Winter snow and cold temps don't get Vortex®'s Bill Krivanek down. In fact, quite the opposite. This time of year, he's fired up about calling coyotes and putting a little fur on the ground. "There's so much to love about these crafty critters," said Bill. "They nearly always have the advantage. When you get one to come in to shooting range, you've really accomplished something. It's as exciting as hunting gets."
Often when a person is super dialed in to a specific style of hunting, their gear set is long, expensive, and potentially intimidating for a person looking to get started. Bill's kit is the perfect blend of lean, comprehensive, and effective. Read on for a breakdown of his predator pack out.
Calls: When it comes to calls, Bill uses the FOXPRO Shockwave. It has a robust library of accurate distress sounds, as well as coyote vocalizations, to get dogs on their feet and coming in. It also has the volume to reach out and grab the attention of a distant dog – something Bill says is super important. It's a fantastic e-caller but doesn't eliminate the need for a lanyard full of trusty mouth calls. Bill's is adorned with a few open reed and closed reed calls. Hand calls are great for mixing things up, quick to access, let you impart emotion into the call and provide another level of satisfaction when you get a coyote to commit. He even has a few diaphragm calls for hands-free work. Like his e-caller, they are from FOXPRO as well.
Rifle: Bill primarily hunts the Midwest where harsh winters are the norm. You can tell that from the custom rattle-can snow-camo paint job on his well-worn AR-15. Chambered in .223, he likes the practical functionality and fast follow-up shots the AR-platform offers – particularly when you call in multiples. His AR is from Aero precision and been an absolute workhorse. Brand of AR-15 doesn't matter much to Bill, but it does need to be accurate and reliable.
Riflescope: Shots are shorter in the Midwest, with a general max of 300 yards. Most are much closer. Bill's riflescope is the tried-and-true Viper® HS™ 2.5-10x44. The low end of 2.5 with its wide field of view is just as important as the high end of 10. It's incredibly durable and the optics speak for themselves.
Rangefinder: The Viper® HD 3000 Rangefinder gets it done for Bill in more ways than one. It serves double duty as his rangefinder and observation optic.
Suppressor: Silence is golden – particularly when you want to preserve your hearing and capitalize on that pair you just called in. Bill's suppressor is the Banish 30 from Silencer Central®.
Ammo: No dog wants to be on the business end of Bills AR. His mags are loaded with Hornady® 55 gr V-Max® Varmint Express®. Their reputation for coyote crumpling is long and distinguished.
Shooting Sticks: In coyote country, you often need to bring your own rest. A set of shooting sticks is a necessity for Bill. He runs the Vanguard Scout B62 Bipod. They are fast to deploy, stabilize the rifle and are easy to adjust when that dog comes in from a spot you didn't anticipate. They have a swivel head for smooth panning when tracking a moving dog in your scope and easy turns to get on target fast with minimal movement.
Camo: Staying warm and concealed are of utmost importance, his King's Camo Snow Shadow®, Insulated Bibs and Jacket get the job done time and time again.
Drag Rope: Bill plans for success and generally finds it. The lightweight Hands-Free Drag from Coyote Cords always finds its way into his pack. It has room for two passengers. No need to bend over unnecessarily or grab an awkward leg, this simple device makes getting your coy-dog quarry out much easier – particularly when there's snow on the ground.
Headlamp: Pre-dawn hikes into hot stands, post sunset walks out, and hunting the night shift are all made easier and safer with a reliable headlamp. Bill's is the Milwaukee 2103.
Boots: RedHead insulated boots are warm, comfortable and don't break the bank.
Seat: Bills seat game is strong. His HS Strut Deluxe 2-Way Strut Seat is lightweight and offers a few inches of elevation. Keeping your backside off the ground is much more comfortable, and the extra bit of height improves visibility for spotting incoming canines. And after saving a few turkeys from becoming song-dog snacks, you can use the seat to get your own turkey dinner when spring finally rolls around.
Backpack: The Red Rock Outdoor Gear Pack is the perfect size for hauling Bill's coyote-calling essentials. It's been discontinued, but lots of great packs will tackle the job without depleting your pocketbook.
For a full walkthrough of Bill's lean and mean lupine loadout, tune into Episode 208-10MT of the Vortex Nation™Podcast.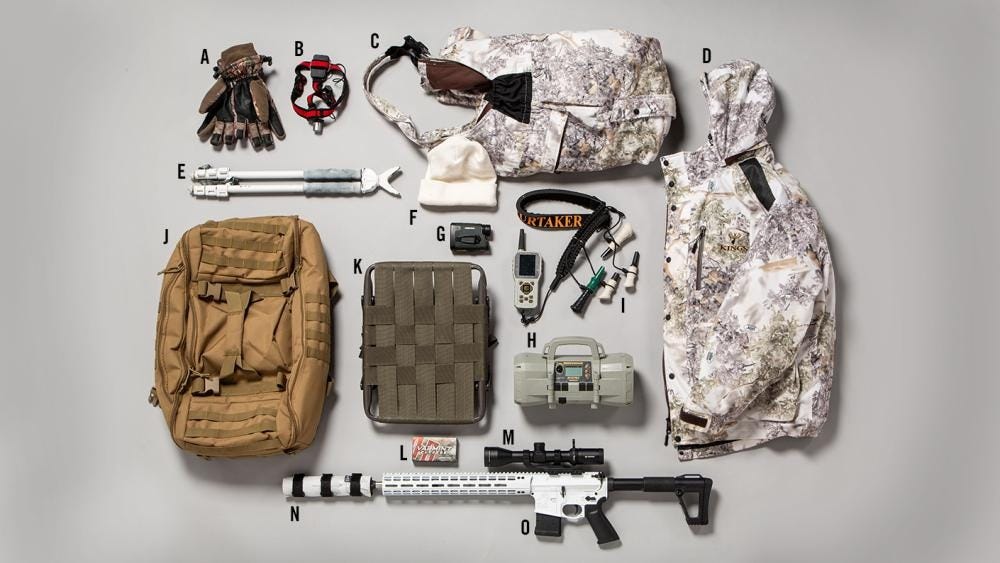 Gloves
Milwaukee 2103 Headlamp
King's Camo Snow Shadow®, Insulated Bibs
King's Camo Snow Shadow®, Insulated Jacket
Vanguard Scout B62 Bipod
Knit Hat
FOXPRO® Shockwave Electronic Game Call
Open Reed & Closed Reed Mouth Calls
Red Rock Outdoor Gear Pack
HS Strut Deluxe 2-Way Strut Seat
Hornady® 55 gr V-Max® Varmint Express®
Aero Rrecision AR-15
Banish 30 from Silencer Central®
It's our hope you can learn and laugh along with the expert voices we feature on this blog. We want to be clear that the opinions you see featured here are just that: opinions. The content belongs to the authors and is not necessarily the opinion of Vortex Optics.
To learn more about what you've read, please like, follow, and otherwise support our authors.