Ranger® 1300
Ranger 1300
is rated out of
5
by
97
.
Overview
Capable of ranging targets to 1,300 yards, the Ranger 1300 gives hunters and shooters the distance data needed to make accurate shots. Primary HCD (Horizontal Component Distance) mode displays an angle-compensated distance reading. Easy to use with a clean display and highly intuitive menu, the Ranger 1300 keeps things simple, yet provides a high level of performance.

Compact, ergonomic and lightweight, the Ranger 1300 is easy to pack or hang around your neck using the included lanyard. The adjustable utility clip mounted to the body offers an innovative way to clip the unit to a belt, pocket, or other flat edged surface for easy access. Clip can be mounted to right or left side of the unit or completely removed. Runs on common CR2 battery.
Included in the Box
Utility clip
Neck lanyard
Soft carry case
CR2 battery
Center of the riflescope tube from the top surface of the mount base.
Range Reflective (yards)
10-1300 yards
Range Deer (yards)
10-600 yards
Accuracy
+ / - 3 yards @ 1000 yards
Max Angle Reading
+ / - 60 degrees
Objective Lens Diameter
22 mm
Linear Field of View
315 feet/1000 yards
Angular Field of View
6 degrees
Operating Temperature
14°-131°F
Back to top
Features
Fully Multi-Coated
Increase light transmission with multiple anti-reflective coatings on all air-to-glass surfaces.
Waterproof
O-ring seals prevent moisture, dust and debris from penetrating the binocular for reliable performance in all environments.
Rugged Design
Built to handle tough situations. Compact and lightweight.
Rubber Armor
Provides a secure, non-slip grip, and durable external protection.
Diopter
Adjusts for differences in a user's eyes. Located on right eyepiece.
Tripod Adaptable
Compatible with a tripod adapter, allowing use on a tripod or car window mount.
HCD
Horizontal Component Distance (HCD) mode for angle compensated ranging.
LOS
Line of Sight (LOS) mode displays actual line of sight range.
Scan
This feature displays continual distance readings when panning across a landscape or tracking a moving animal.
Easy-to-use Menu
Intuitive, easy-to-use menus feature a simple, clean illuminated display.
Ranging Format
Range in yards or meters.
Back to top
Reticle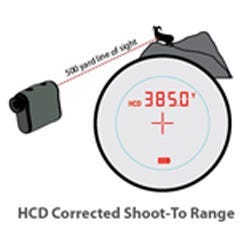 HCD CORRECTED SHOOT-TO RANGE
The Ranger 1300 uses HCD (Horizontal Component Distance) angle-compensated ranging technology to give bow and rifle shooters the critical distance data needed to make accurate shots.
Back to top
Reviews
Rated

1

out of

5
by
Clink
from
Horrible Range Finder
I bought this for my Antelope Hunt in Wyoming. I quickly learned ranging an Antelope past 400 yards was nearly impossible and when it did give you a number It took 20-25 tries. When you get past 350 it doesn't function well at all in the field. Take it somewhere and range buildings and it works better but in the field it sucks. This wasn't a rocky area, it was a grazing pasture. I am so disappointed in the 1300. I have many products from vortex and love them all that's why I purchased the 1300 but they need to take the 1300 back to engineering because it does not do as it claims. Ranging in the field was frustrating.
Date published: 2018-10-04
Rated

5

out of

5
by
Joe101
from
Great Price for a Great Product
I bought the Ranger about 2 years ago and have been very happy with it. I use it when hunting and when sighting in my rifles and bows and it has performed very well. There have been multiple times that I've dropped or hit the Ranger and held my breathe as I examined it, thinking that there would have to be some kind of damage to it. Every time I was blown away when there wasn't even a scratch. And it's comforting to know that even if something would happen to my Ranger the VIP warranty would cover it. Overall I'm very happy with the performance and durability of the Ranger and plan on buying more in the future for my kids.
Date published: 2018-04-01
Rated

5

out of

5
by
Ken jackson
from
Most Outstanding Customer Service Ever!
I purchased a ranger 1000 last summer for a winter elk hunt in Az. When my hunt came I was packing gear on thanksgiving weekend, while checking out my ranger I found it was totally inop I started freaking out that I wouldn't have my new finder. All I can say is after the holiday weekend I spoke to someone on Monday and I had a new finder by Wensday in time for my hunt .When I opened the box I couldn't believe it I was upgraded to the next model, and got a surprise hat in the box..Outstandingservice!outstanding! I am now a 100% supporter of Vortex. And the Ranger is excellent.
Date published: 2018-03-01
Rated

5

out of

5
by
Wildamerican
from
!!!!!!!Wow!!!!!!!!
I am new to bow hunting and archery and did a lot of research tested a lot of rangefinders and went to my local pro shop and asked around. All resources pointed me to this! And wow it is amazing easy to use and feels very durable. I am so excited to get out there and use it in real world scenarios. If your on edge about purchasing just go for it. You only live once and deserve the best!
Date published: 2018-03-27
Rated

5

out of

5
by
Bryce Lueck
from
Phenomenal products from a trustworthy company
I bought a ranger range finder for elk hunting cause a couple guys I know had them but what I didn't know was how much I would like the company as a whole. Not long after I bought the ranger finder it stopped working while shooting so I went and sent in and got confirmation a day or two later it was processed and on its way to repair. A week later I had a brand new ranger finder on my door step. I couldn't ask for a better company to provide me with better products.
Date published: 2018-03-08
Rated

5

out of

5
by
Hoshunter39
from
Last rangefinder you will ever need
I have used this rangefinder for everything under the sun. The ease and quality are un-matched and the VIP warranty males it even better. I buy gear to use it and this rangefinder comes worry free. I'm a vortex fan to the core and Vortex has done it again with this rangefinder.
Date published: 2018-03-31
Rated

5

out of

5
by
Jmannino
from
Great Rangefinder
Awesome rangefinder, it's accurate, bright, and easy to use. I have zero complaints. It's lightweight, durable, and ergonomic. It's also angle compensating. I used it to kill my 2017 AZ elk, as well as my 2018 Archery Javelina.
Date published: 2018-03-12
Rated

5

out of

5
by
erwcall
from
Perfect size and simple to use.
Bought this a few weeks ago and it was the perfect fit. Between rifle and bow it does everything I need and has all the right options. Simple to change modes and the red display makes it easy to read. Would recommend 100%
Date published: 2018-03-26
Back to top