Ranger® 1800
Ranger 1800
is rated out of
5
by
49
.
Overview
Even the most accurate rifle and scope combination is rendered useless without the precise target range data the Ranger rangefinder provides. Easy-to-use, the Ranger bucks the trend of overly complicated electronics that are more of a hindrance in the field than they are an asset. The built-in angle compensation is popular with treestand hunters looking to get exact horizontal distance to a deer and long-range shooters who need to calculate complex ballistic solutions with precise data. A utility clip keeps these compact units close at hand for rapid deployment and each model is easily adapted to any 1/4-20 tripod plate when a more rock steady base is required.

Compact, ergonomic and lightweight, the Ranger 1800 is easy to pack or hang around your neck using the included lanyard. The adjustable utility clip mounted to the body offers an innovative way to clip the unit to a belt, pocket, or other flat edged surface for easy access. Clip can be mounted to right or left side of the unit or completely removed. Runs on common CR2 battery.
Included in the Box
Utility clip
Neck lanyard
Soft carry case
CR2 battery
Center of the riflescope tube from the top surface of the mount base.
Range Reflective (yards)
10-1800 yards
Range Deer (yards)
10-900 yards
Accuracy
+ / - 3 yards @ 1000 yards
Max Angle Reading
+ / - 60 degrees
Objective Lens Diameter
22 mm
Linear Field of View
315 feet/1000 yards
Angular Field of View
6 degrees
Back to top
Features
Fully Multi-Coated
Increase light transmission with multiple anti-reflective coatings on all air-to-glass surfaces.
Waterproof
O-ring seals prevent moisture, dust and debris from penetrating the binocular for reliable performance in all environments.
Rugged Design
Built to handle tough situations. Compact and lightweight.
Rubber Armor
Provides a secure, non-slip grip, and durable external protection.
Diopter
Adjusts for differences in a user's eyes. Located on right eyepiece.
Tripod Adaptable
Compatible with a tripod adapter, allowing use on a tripod or car window mount.
HCD
Horizontal Component Distance (HCD) mode for angle compensated ranging.
LOS
Line of Sight (LOS) mode displays actual line of sight range.
Scan
This feature displays continual distance readings when panning across a landscape or tracking a moving animal.
Easy-to-use Menu
Intuitive, easy-to-use menus feature a simple, clean illuminated display.
Ranging Format
Range in yards or meters.
Back to top
Reticle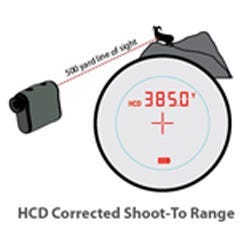 HCD CORRECTED SHOOT-TO RANGE
The Ranger 1800 uses HCD (Horizontal Component Distance) angle-compensated ranging technology to give bow and rifle shooters the critical distance data needed to make accurate shots.
Back to top
Reviews
Rated

4

out of

5
by
SpikedM
from
All Purpose Range Finder
I have owned the Ranger 1800 for 4 months and have used it for hunting here in Western WI. Very easy to use and compact. I have ranged non-reflective targets out to 875 yards and reflective to 925 yards. The illuminated display works great in all light conditions except very bright sunlight with light colored background (snow/corn stubble). In these specific situations, the display is hard to read, but definitely not a deal breaker. The 3 brightness settings for the illuminated display work great, but wish they were listed first in the menu, because they are changed the most often. Overall, great product and only rangefinder with a lifetime warranty.
Date published: 2019-01-07
Rated

5

out of

5
by
D-MC
from
Works like a charm
I use this mainly for bow hunting, but also used it to gauge some landmarks while deer hunting gun season last year. Granted, the ranges I was looking at were 150 yards or less, but the compact package, and ease of use allowed me to range deer without being busted. I've enjoyed using it to tune my bow as well setting targets at various distances in the yard to check my pins. I've gotten my unit wet, and dropped it in snow and have had no issues at all. just dried it off and went about my hunt. And the thing never fogs. Another great Vortex product
Date published: 2018-03-30
Rated

5

out of

5
by
Dixie993
from
Best on the market
Purchased the Vortex Ranger and have been impressed with its quality and accuracy. The ranger is used with long range shooting as well as short range varmit hunting and performs every time. Easily out performs the competition.
Date published: 2018-03-01
Rated

5

out of

5
by
Kpatrick28
from
Compact, Accurate, and Durable
I use this range finder for a variety of purposes. From shooting archery courses to any of my hunting trips. So far, it has been excellent. It is very compact, so it is not a hindrance on my backpacking trips and has fantastic clarity. It is an easy to use, durable and accurate range finder and you cant beat the warranty with it.
Date published: 2018-03-29
Rated

5

out of

5
by
mattkWI
from
Awesome Rangefinder
Recently upgraded from the Ranger 1000 that I had a few years. I can't believe how fast this new unit is. Very natural fit to hold onto and the belt clip comes in handy on stalks so you don't have to mess with the case in crunch time. Love the scan mode as well to get a general idea of surrounds as soon as you climb in a tree.
Date published: 2018-03-01
Rated

5

out of

5
by
0627Devildog
from
Best rangefinder for the money BY FAR.
Absolutely LOVE this rangefinder. . . . Came from another manufacturer that had some challenges ranging non-reflective targets at 400+yards. . . . My Ranger was less expensive, more compact, has better optic clarity and I have successfully rangeg non-reflective targets (at known distances) out to 800yds without issue.
Date published: 2018-03-29
Rated

5

out of

5
by
BGH22888
from
Quick Rangefinding
When using this rangefinder, I was very impressed with how fast it was able to range objects in the medium to far ranges, 500+yds. I use this for both range time and hunting.
Date published: 2018-03-01
Rated

5

out of

5
by
Joeman
from
Awesome!
Upgraded to a new Vortex for a once in a lifetime desert bighorn hunt. I can't say enough good things about this range finder. Super fast acquisition, great range and of course the incredible warranty!
Date published: 2018-03-03
Back to top