Solo® RT 8x36
Solo RT 8x36
is rated out of
5
by
25
.
Overview
The Solo R/T monocular features an MRAD-based ranging reticle for accurate range estimation and shot calls. The powerful optical system delivers bright images in a compact, lightweight and easy-to-handle unit that is both waterproof and fogproof. With an integrated utility clip, it attaches to webbing or other flat-edged surfaces for quick external access.
US Patent 7,877,886
Included in the Box
Neck lanyard
Utility clip
Soft carry case
Center of the riflescope tube from the top surface of the mount base.
Objective Lens Diameter
36 mm
Linear Field of View
393 feet/1000 yards
Angular Field of View
7.5 degrees
US Patent 7,877,886
Back to top Features
Fully Multi-Coated
Increase light transmission with multiple anti-reflective coatings on all air-to-glass surfaces.
Roof Prism
Valued for greater durability and a more compact size.
Waterproof
O-ring seals prevent moisture, dust and debris from penetrating the binocular for reliable performance in all environments.
Fogproof
Nitrogen gas purging prevents internal fogging over a wide range of temperatures.
Rubber Armor
Provides a secure, non-slip grip, and durable external protection.
Reticle Focus
Ensures a sharp reticle image at all distances.
Adjustable Eyecups
Twist up and down for comfortable viewing with or without eyeglasses.
Utility Clip
The versatile, multi-position utility clip allows for multiple attachment points and quick attachment to pocket edges, equipment or vests.
Back to top
Reticle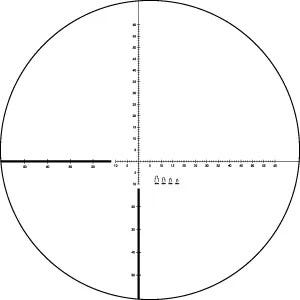 Back to top
Reviews
Rated

5

out of

5
by
Justin M
from
Great accessory for the 3 gun range bag
The Solo R/T is a fantastic accessory to throw in your range bag if you shoot 3 gun. I have 3 pieces of equipment that always go with me when there are long distance rifle shots involved. 1) My solo R/T 2) My Ranger 1000 LRF and 3) My Kestrel. The Solo R/T allows me to get an eye quickly on targets while walking through stages, get rough range estimations and target sizes and helps me plan my stage. The optical quality for the price is great, and I love the reticle. It also slips easily in to a pocket out of the way until I need it and doesn't take up much space in my range bag. Must have piece of gear for me.
Date published: 2017-06-15
Rated

5

out of

5
by
Koruptedink
from
Clear glass! Range estimating reticle!
I bought this as I hate the struggle of re-adjusting binoculars while hunting in a rush. This monocular also one-up'd me by having the ranging reticle built in! Whitetail back hieght is easily ranged by cutting 6ft figures in half, quick and easy! The reticle is awesome in the sense that it is useable, visible, and NOT obstructing! The feel is very lightweight but solid and I love the rubber grip on it too. The clip is awesome too so I don't have binocs swinging around my neck. Oh and I wear glasses so the roll back design on the eyeshade is amazing as well! All this and the glass is clear clear clear! If you are looking for something to peek at animals with quick and easy, this is perfect. I would recommend this to anyone.
Date published: 2018-03-01
Rated

5

out of

5
by
Kulani
from
Battery free range finder.
I bought this monocular for hunting, but I can see myself using this anytime I am out in the field for training or fun.
Date published: 2017-06-15
Rated

5

out of

5
by
Nic shores
from
Reliable 24/7
So about a month ago a bud and I were shooting over a small valley. We had gongs set up over different locations. Any ways my range finder wasn't giving me the range, so I thought this would be a great time to break out the ST R/T 8x36. Man is it handy, by knowing the target size and looking through the monocular I could get a good idea how far away the targets were. Vortex, you will always be at the top of my list for when I need new gear!!!!
Date published: 2017-11-07
Rated

3

out of

5
by
LeeMon
from
External side of lense fogs up in mild conditions
I find the build quality of the monocular to be great...however....I find that the outside of the ocular lense dogs up rapidly in even mild conditions and this limits the image dramatically. I find this very frustrating. I have made sure the lense is clean and that the rubber cup is folded up etc. but it still happens. I love the design but this flaw makes me want to leave the monocular behind sometimes. What a pitty.
Date published: 2018-01-20
Rated

5

out of

5
by
The Taxidermist
from
NICE!
I bought 1 of these after I was on a CO elk hunt and my guide had 1. It works great and its way better then any bino I have ever had. My left eye doesnt have the best of vision, so no need for a pr of binoculars. I would highly recommend this for anyone. My guide has a scope with the same stuff and the 2 work awesome together
Date published: 2017-06-15
Rated

5

out of

5
by
RWR826
from
Perfect for bow hunting
Bought this as I am blind in my right eye, so binoculars would be waste. It tucks nicely on my shoulder strap for that quick look before the shot. Before vortex was stuck with poor quality optics and construction of a golf monocular the optical clarity is amazing with vortex
Date published: 2017-06-15
Rated

5

out of

5
by
NorWestHiker
from
Clear, sharp optic in a handy package
Very happy with this monocular. The optical clarity is very good. Having the reticle is a great benefit with range estimation. It's a regular part of my hunting and hiking kit. Small and light, it's easy to add for outings.
Date published: 2017-06-15
Back to top