Copperhead®
4-12x44
Dead-Hold BDC (MOA) Reticle | 1 inch Tube
Copperhead 4-12x44
is rated out of
5
by
47
.
Overview
The long eye relief, locking diopter, and fully multi-coated lenses are just a few of the reasons this riflescope will be a crowd pleasing favorite. Tough construction and bright images are just the icing on the cake. Its hard anodized single-piece aircraft-grade aluminum tube is nitrogen-purged and o-ring sealed for waterproof/fogproof/weatherproof performance.

Included in the Box
Removable lens covers
Dust cloth
Objective Lens Diameter
44 mm
Field of View
24.7-8.4 ft/100 yds
Adjustment Graduation
1/4 MOA
Travel Per Rotation
15 MOA
Max Elevation Adjustment
60 MOA
Max Windage Adjustment
60 MOA
Parallax Setting
100 yards Features
Fully Multi-Coated
Proprietary coatings increase light transmission with multiple anti-reflective coatings on all air-to-glass surfaces.
Tube Size
1 inch diameter tube offers a versatile blend of adjustment, size and weight for a wide variety of shooting applications.
Single-Piece Tube
Maximizes alignment for improved accuracy and optimum visual performance, as well as ensures strength and waterproofness.
Aircraft-Grade Aluminum
Constructed from a solid block of aircraft-grade aluminum for strength and rigidity.
Locking Diopter Eyepiece
This feature allows the shooter to set and lock the eyepiece setting once for their eye and forget it.
Waterproof
O-ring seals prevent moisture, dust and debris from penetrating for reliable performance in all environments.
Fogproof
Nitrogen gas purging prevents internal fogging over a wide range of temperatures.
Shockproof
Rugged construction withstands recoil and impact.
Hard Anodized Finish
Highly durable hard-coat anodization provides a low-glare matte surface and helps camouflage the shooter's position.
Reticle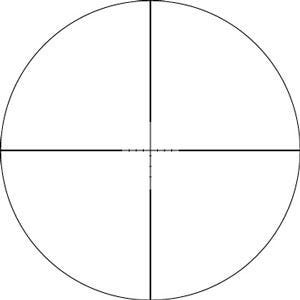 Reviews
Rated

4

out of

5
by
AD-WA
from
Decent scope
I bought this scope to put on a .17HMR for shooting squirrels. It's a decent scope but it isn't the clearest scope out there. I suppose you get what you pay for and it's on the lower end of vortex. When you crank the magnification it gets kind of fuzzy. Back the magnification back to 8-9 (I think...I haven't shot it for a few months) and it clears right up. Serves it's purpose for what I use it for. Helped me knock out 100+ grey diggers last summer so it works. I wouldn't use it for any long distance shooting due to the high magnification fuzziness.
Date published: 2018-03-02
Rated

5

out of

5
by
Josh
from
So good I have 3
I wanted a scope that had more distance and more light. I originally got one for my Remington 700 in 30-06. I used it all hunting season the clarity of the scope for the price is amazing. I wound up getting 2 more for my Mossberg MVP and Remington R15. For the price of the scope to be in the wheelhouse with other brands 500 scopes it's a deal and to add the warranty behind it is just adding ice cream to cake.
Date published: 2017-06-15
Rated

5

out of

5
by
Nigel
from
Great low price scope
I was on vacation in the US recently and as I was looking for a scope for my Sako Quad .22LR, I stopped into Mountaineer guns in White Sulphur Springs (WV) for a look. I saw the Vortex Copperhead at $110 and had a look, I was impressed with the clarity and brightness immediately; In fact I was so impressed with it when I stopped in at Bud's gunstore in Lexington (KY) I also bought a Vortex Crossfire2 4-16x50 AO for my .17HMR rifle! I almost always go for Bushnell and Sightron scopes, but now I'm converted and I'll have to seriously consider replacing my Elite and S111 with equivalent Vortex!
Date published: 2018-06-27
Rated

5

out of

5
by
Bmac
from
Awesome Scope
I'm new to vortex scopes. I purchased the Vortex CopperHead 4-12x44 for my Remington 783 and am so pleased with the quality, clarity and durability of this amazing scope. With vortex VIP warranty and very reasonable pricing you just can't go wrong with this scope.
Date published: 2017-06-15
Rated

4

out of

5
by
Elkhunter
from
Great value scope
I put this scope on a .30-06 and have been pretty impressed! The first thing that I like is the BDC reticle and using the LRBC tool. We shot 4 animals with the gun this scope was setup on and had confidence in each shot due to knowing where to aim. The next feature that I like about this scope is the forgiving eye relief. This is definitely not a Viper or Razor, but for the money is a great scope.
Date published: 2017-06-15
Rated

3

out of

5
by
Kevins19
from
Clear glass but...
The scope does feel pretty solid and glass is fairly clear, 44mm is a perfectly adequate objective size and lets plenty of light in. The adjustment caps are easy to remove yet tighten nicely. The windage and elevation knobs are fairly sturdy feeling and have subtle but recognizable clicks. There are some issues though such as at 12x the reticle is not completely crisp / clear even after being adjusted. Once you back the magnification down to 8x and lower its fine. 12x just seems to be pushing it for this quality of glass. I also would really prefer just a simple duplex reticle on this level of scope IMHO. My biggest issue is the eye relief. At 12x the eye relief box is so narrow its almost impossible to stay in the sweet spot. I found myself spending more time moving my head a fraction of an inch and never being happy. As soon as you back it down its more forgiving but these two things make this more of a 4 - 8x usable scope. Luckily it is just on a 10/22 otherwise I would be more annoyed. My scopes of other brands are far more forgiving in the eye box which makes them more enjoyable to shoot.
Date published: 2017-07-08
Rated

5

out of

5
by
Steve
from
Great scope
Mounted it on my new Browning X bolt, 30-06, shot great off the bench and put down a great whitetail at 212 yards.
Date published: 2017-06-15
Rated

5

out of

5
by
wamshane
from
Perfect mount ... perfect performance !
Mounted the Vortex Copperhead on my new Browning Hells Canyon Smoke ... great tight fit with the low mounts ... and bright site picture for the 3/4" groups ! Vortex ... thank you for my great Copperhead!
Date published: 2017-06-15
Rated

4

out of

5
by
Klem
from
Copperhead delivers
Well constructed. Stayed dialed in even through 100's of rounds through my Sako A7 rough tech 300 win mag. Focus adjustments will be needed from 4-12 power. This happens a lot for me as I hunt from one extreme to another in one day. Vortex made an outstanding scope that is far from low level.
Date published: 2017-06-15
Rated

5

out of

5
by
Will
from
Vortex Copper Head 4-12x44 outstanding!!
I bought this as one of my first cortex products and it has been an outstanding. Scope. I zeroed it in very quickly and easily. It has been in and out of the case and up and down the climber during the hunting season and never lost its zero. Glass is super clear and gathers great light. I took it out a few weeks ago and after plugging all of my data into the LRBC was able to achieve a 900yd shot on steel twice. I will forever be a vortex fan.
Date published: 2018-03-26
Rated

5

out of

5
by
Hunt'n Jay
from
Great Squirrel rifle scope
Just setup this bad boy on my custom Ruger 10/22 rifle. I like the variable zoom and clarity of the optics. Shot four fuzzies the other day fron 25yards all the way out to 110 yards. All head shots. Great scope.
Date published: 2017-06-15
Rated

5

out of

5
by
Dally
from
Great Scope
I bought this scope for my .243 in hopes I could shoot further distance. With this scope the target at 600 yards is extremely clear. I can see the reticle with ease. I would recommend this scope to anyone.
Date published: 2018-03-13
Rated

5

out of

5
by
jake the hunter
from
i would hands down this product over any i liove mine
its the perfect size and its extremely nice with bdc hold it fits perfect on my cva hunter amazing
Date published: 2017-06-15
Rated

4

out of

5
by
Jk
from
Vortex
Good scope for the money worked great on a 10/22.
Date published: 2017-06-15
Rated

5

out of

5
by
Kiko
from
I love this scope would by again
I use this amazing scope on a savage 22-250 for predetor hunting in he first month I had it I shot a female coyote with this deadly set up. It's a good low cost scope for who ever has a budget it has really clear glass for the price and the magnification is good although at like 10 to 12 it starts to get a little blurry other than that it's an amazing scope
Date published: 2017-06-15
Rated

5

out of

5
by
Wreck It Gordo
from
Brought new life to old rifle
Got this scope for my grandfathers old remington 788 in 22 250 it is an amazing upgrade over the scope that was on it the clarity is amazing it was easy to sight in taking the rifle all the way out to 300 yards best quality for the money with hands down best warranty available
Date published: 2018-03-29
Rated

4

out of

5
by
bo
from
huge value scope
I purchased this scope for my savage hog hunter in .223 and it fits really win the value aspect of this package. The glass is fairly clear adjustments are decent and i could not ask for any more than that at this price point. thank you vortex for the great value!!
Date published: 2017-06-15
Rated

5

out of

5
by
BigPoik
from
Great Scope for the money
I bought this scope a year and a half ago to put on my T/C compass .30-06 and have not been disappointed. It was really simple to sight in and has held zero very well. The glass is very clear and turrets track well. I definitely recommend this product.
Date published: 2018-03-26
Rated

4

out of

5
by
Tntrkyhntr
from
Perfect match!
I put one on a CVA Scout in 45-70 and another on a CVA Hunter in .450 Bushmaster and they are absolutely the perfect match up for the capability of these rifles!
Date published: 2018-03-29
Rated

4

out of

5
by
Timothy97
from
Good Scope For Price
Good scope but on occcasions the reticle becomes blurry and is hard to distinguish objects within; but a great scipe for only 200 bucks.
Date published: 2018-03-07
Rated

5

out of

5
by
Mattd806
from
Entry level!?!
Awesome scope especially to be considered entry level. Great clarity and sharpness. Also has good range of zoom with the 4-12.
Date published: 2018-03-26
Rated

5

out of

5
by
Jalopy Joe
from
Great price great quality
Local gun shop had one left gave it a shot and couldn't more pleased with it for its purpose
Date published: 2017-06-15
Rated

5

out of

5
by
ShrekN
from
Awesome scope for the price!
In a time where scopes keep getting more advanced, more features and more expensive, it is nice to find a great "budget" scope. Don't get me wrong, when I say budget I do not mean cheaply made by any means. I mounted mine on a Savage 11 in 308 and was pleasantly surprised. I will start of with what I consider the best thing about this scope, the BDC reticle. Most scopes at this price range come with your basic cross sight but having a BDC reticle and having your ammo ballistics makes those long shots easy. It took a few boxes to really aswork out where exactly the rounds hit by the reticle but it is so much easier than trying to guess hold over. It made me look like a better shooter that I am, and that's right there is worth the price. Then myself knowing exactly where all my gear was at, knocked my rifle into the dirt off the bench. Wouldn't have been so bad if it had not landed on the scope but much to my clumsiness there was no damage and it held zero. I never had to re zero unless I changed ammo and that was really just to reconfirm. The one "bad" thing. The glass is nice and clear, although the outsides got a bit fuzzy when you got to higher magnification. I don't know if it was just mine or all but it never bothered me as you had to physically look at the edges to see it. The couple of guys that shot it didn't notice until I pointed it out. In the end, this is the scope that sold me on Vortex as having fantastic scopes. A lot of us tend to stick to what we know, because we know it works. I decided to chance it to see what happened and I'm glad that I did.
Date published: 2018-03-02
Rated

2

out of

5
by
jcamp303
from
Poor Glass
I bought this scope for my rem 700 and 7400. Holds zero good but the glass is cheap and poor. Best magnification to see through is 9 or 10. Zooming in to 11 or 12, it gets so blurry it's very hard to make out anything in low light situations. If you're just looking for a cheap scope to shoot with then it is a bargain, but you won't get high quality resolution.
Date published: 2018-11-30
Rated

3

out of

5
by
Bruce
from
Copperhead
I think this is a miss for Vortex. Frankly it's not even up to the Leu VX-1 standards. Glass is milky. I can say the turret adjustments feel a little better than the VX-1. You do get a good positive click but the glass really brings this one down. I love my other Vortex scopes but this one is not up to par even on the budget end
Date published: 2019-01-21
Rated

5

out of

5
by
Djeney
from
Excellent
I bought this scope about a year ago for my new deer rifle a tikka left hand 7mm rem mag. I had always bought cheap scopes and didn't want a run of the mill scope for this rifle and I should have bought a vortex a long time ago. I will be changing all my scopes out for vortex now. Excellent optics and excellent warranty
Date published: 2019-05-03
Rated

4

out of

5
by
SmashedNE
from
Great overall
I own several Vortex scopes. I purchased my first one because of the price as I'm on a budget. For me it was very comparable to my Nikon optics, so I purchased a few more as I purchased more rifles. They have decent light, good clarity, non fog lenses, and the budget friendly.
Date published: 2019-05-28
Rated

5

out of

5
by
Bikerj86
from
Great optic at a inexpensive price
I bought the copperhead for my 300 wm for all my big game hunting needs here in Alaska. Was able to accurately place a perfect shot behind the shoulder of a moose at 300yds. Was sp happy with my product I purchased a a second one !you will not be disappointed
Date published: 2019-05-28
Rated

5

out of

5
by
kanton24
from
All Around Amazing!
I bought this as a scope for my Ruger American 6.5 Creedmoor. I wanted to try Vortex because of everything great i've heard and i do not regret it. The scope has stayed sighted and works great in the field. For the price you can't beat it.
Date published: 2019-05-02
Rated

4

out of

5
by
jjzauner
from
Great Scope for the money
Very good scope for the budget price. I have two of these models and they perform great. The only reason I don't rate 5 stars is I feel on 12 power and bright conditions the target can get a little blurry.
Date published: 2019-05-28