Viper XBR®
2.5-10x44
XRB-1 (MOA) Reticle | 30mm Tube
Viper XBR 2.5-10x44
is rated out of
5
by
4
.
Adopting many of the same features found on our long-range riflescopes, the Viper XBR crossbow scope is specifically built to maximize the performance of today's high-speed crossbows at long range. Highlighted features include an exposed elevation turret marked in 1 MOA increments that tracks true every time—making it ideal for quick dialing of adjustments on long shots. The Viper XBR offers shooters the ultimate in speed and long-range versatility with the CRS (Customizable Rotational Stop) system that prevents the turret from traveling more than one revolution below sight-in zero and the glass-etched, MOA-based XBR-1 reticle to hold elevation and windage compensation. Reticle illumination and a fast-focus eyepiece ensure sharp, shooter-specific reticle focus. Yes, this changes everything when it comes to hunting with long-range crossbows.
| | |
| --- | --- |
| Magnification | 2.5-10x |
| Objective Lens Diameter | 44 mm |
| Reticle | XBR-1 (MOA) |
| Eye Relief | 4.0 inches |
| Turret Style | Tactical |
| Tube Size | 30 mm |
| Adjustment Graduation | 1 MOA |
| Parallax Setting | 75 yards |
| Max Windage Adjustment | 86 MOA |
| Max Elevation Adjustment | 86 MOA |
| Travel Per Rotation | 48 MOA |
| Length | 12 inches |
| Weight | 18.8 oz |
| Field of View | 4.0 inches |
| | |
| --- | --- |
| Aluminum Grade | Aircraft |
| ArmorTec® | Ultra-hard, scratch-resistant coating protects exterior lenses from scratches, oil and dirt. |
| Multi-Coated | XR™ Fully Multi-Coated |
| HD Lens Elements | XD™ |
| Shockproof | Rugged construction withstands recoil and impact. |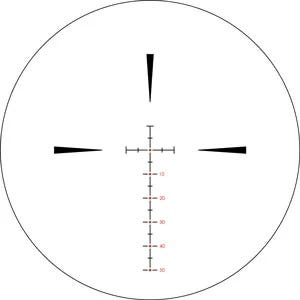 REVIEWS
Rated

4

out of

5
by
ButchM
from
Best glass in crossbowdom
I've been running this optic for a couple years now and have killed a boatload of deer with it. There are two negatives with the optic: #1 is the 75 yard parallax setting. It kills your use of high magnification for close shots inside about 40 yards. I solved that issue by having the Vortex factory reset the parallax to 30 yards for me. #2 issue is the 1 MOA crosshair adjustments. They're too coarse is you want to switch this great optic onto a slug-gun or muzzleloader. Not an issue if you just keep it on your crossbow. That said, there's not a better glass made for use on a crossbow. Clear, bright, superb illumination and a relatively uncluttered sight window. With discounted street prices purchasing an XBR is more than a "no-brainer," you'd be remiss if you didn't buy one. I have a few Vortex optics and the company and customer service is world class. I've run a 3-15x on another crossbow too. ;-)
Date published: 2022-07-04
Rated

5

out of

5
by
serpent007
from
JUST WHAT I NEED FOR MY DARTON SERPENT/VORTEX XBR
This is great i just got my serpent back from the shop for strings&cables and tuned, zeroed in for 30yds like the instructions say. most all of my hunting is 40yds to maybe 50yd. i took the serpent out back and put the target at 30yds using the first dot. put 3 arrows tight at 30yds in target. moved target to 20yds using the hash mark above the 30yd dot put 3 arrows together almost scoping them. the same for the 10yd using the top hash mark. using the dot,s and hash marks in the vortex xbr were right on the money. so i went to 40yds and stacked 3 shots in the target! at 40yds. i left the turret alone. so when i hunt all i have to do is range the target and use the right dot or hash mark. i was not sure i would like using this scope with all the marks inside the scope but i have all summer to practice with it. so now instead of taking the target out and measuring to 20,30,40 or 10 yrds, i just put it where ever i want then range it and look through the vortexxbr for the correct mark and shoot. that is what i wanted the vortex xbr extends my longer distance shooting. an excellant scope for my darton serpent it shoots at 325fps with a arrow weight of 425gr.
Date published: 2017-06-15
Rated

4

out of

5
by
Ricky3107
from
Great features
I start hunting this season and is a little complicate I try to use any hash as 10 yard but in 40 and 50 yards is not hit in the bull eye only 20 and 30 and I don't know if my scope is broke or what
Date published: 2021-01-03