It's time your red dot started pulling its weight.
It's time your red dot started pulling its weight
To get an edge with your AR, you've got to get the best out of all your gear, especially your red dot. But to turn that close-quarters bang machine into a down-range legend, you're going to need a magnifier.
The new Micro3X is the edge you need to stretch your effective range farther than ever. You get an ultra-compact, optically crisp mag system for your red dot or holographic sight with an included, quick release mounting system for fast attachment and alignment, so it won't slow you down.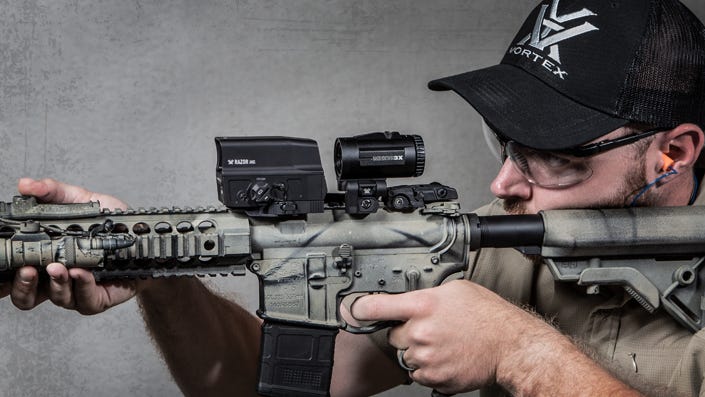 When you're popping targets in close, the cam lock system lets you flip the magnifier down, no button required. When it's time to deal downrange punishment, simply flip the mag back up. Lefties love it, too, because an adjustable flip mount means it's fully ambidextrous.
Hard-coat-anodized, machined aluminum construction means it stands up to whatever the world throws at you, and nitrogen purged optics make it a waterproof, fog-proof, ultra-reliable new best friend for your red dot. And, because you can't hit what you can't see, the lenses are fully-multicoated for maximum light transmission.
It's the complete package, and it just might be the edge you need for your AR.
Want to learn more about the differences between red dots and prism scopes? Check out our 10-minute talk on the subject.