5 Questions with Pro Tucker Schmidt
If you shoot competitively and you haven't heard of Tucker Schmidt, you will soon. Besides taking a very unconventional path into the shooting sports, Schmidt has made the jump from 3-Gun to PRS competitions, and he's already becoming a force at long-range. Check out his story for tips on improving, and to learn how one style of competitive shooting can get you ready for the next.
1. Can you briefly describe your path in the shooting sports? How'd you get started, and what competitions have you won recently?
Growing up I was always super competitive. I grew up playing baseball and played through high school with plans to play in college as a pitcher. By my senior year I had severe elbow problems. Towards the end of the school year I couldn't hold a baseball in my right hand.
After I let that heal up a bit, I found wakeboarding. I ended up getting pretty serious into that as well. I actually got the opportunity to ride professionally and do quite a bit of travelling.
With injuries mounting in that as well, I started adulting and took a few years off from anything too serious. I rode dirt bikes often as well as got on the wakeboard from time to time. Several years went by and I found myself searching for something to compete in, and something that I could be competitive in.
When injuries started mounting up in the other sports he loved, Schmidt was just looking for a sport where he could compete at a high level.
All the sports I've previously competed in are for young folks. I've always had guns for protection and visited the range occasionally to keep the little skills I had sharp. Eventually I spoke with a gentleman there that invited me to an IDPA competition. I took him up on it, and I was instantly hooked.
Aside from the shooting, I was happy to find something I knew could be competitive at in the higher levels. I started searching for more matches and different formats to shoot in.
Now years later, I shoot 3 different formats in competitive shooting and I've met some of the best people and made good friends all over the country. The newest format I'm shooting is Precision Rifle Competition. I compete primarily in the PRS (Precision Rifle Series). This is my second year shooting a bolt rifle in competition, and I've been fortunate enough to get one national win at Pigg River Precision, and a few other top 5 finishes thus far in 2020.
2. How have USPSA and 3-Gun prepared you for PRS? Are there a lot of skills that carry over?
I've shot mostly USPSA and 3-Gun for years now. Eventually my elbow stared causing me pain again, mostly from shooting handguns nonstop. The doctors are actually telling me now that I need complete elbow replacement surgery. I'll probably never stop shooting 3-Gun or USPSA but I needed something that I could shoot consistently without causing me quite so much pain. PRS seemed like a good answer for me to fill that need. It's still action shooting, but with a lot more mental game.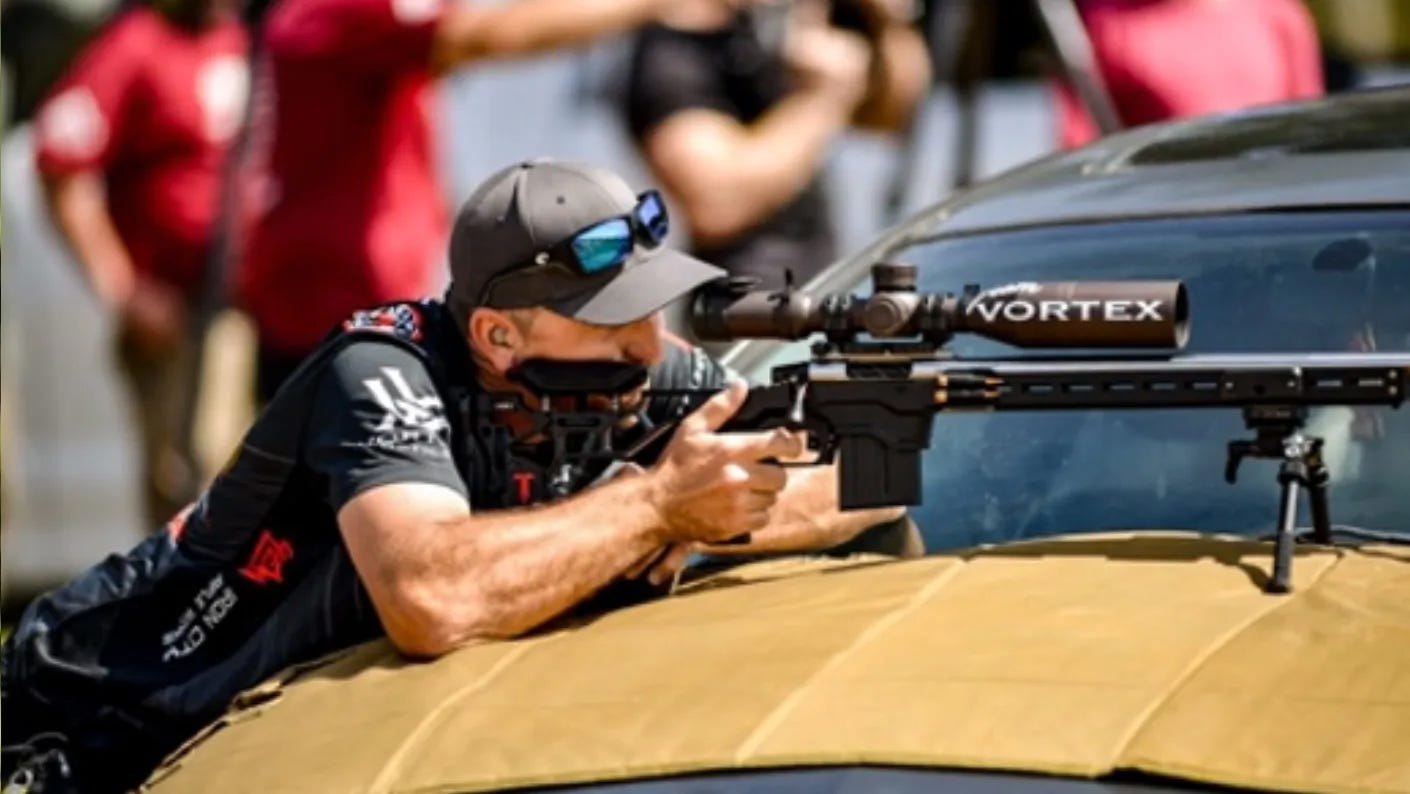 Besides loving the competitive elements of PRS, Schmidt finds the sport is easier on his body than other action shooting competitions.
3. What took the most getting used to in transitioning to PRS? What surprised you?
It seems like one type of competitive (action) shooting somewhat prepares you for the next. It definitely prepares you for the mental pressure you will feel when you're on a stage or the stress of being on the clock. (For more on shooting precision rifles under stress, check out this blog.)
Although all these formats are different, a lot of things are also the same. There's a firearm, a sight system, and a trigger. Once you learn how to pull a trigger correctly, that carries over to all firearms. I recommend putting a lot of time into learning to shoot a pistol first, simply because it's the hardest to learn and requires the most technique and fundamentals. Once you get a pretty good handle on that, the skills learned will transition to any long gun quite easily.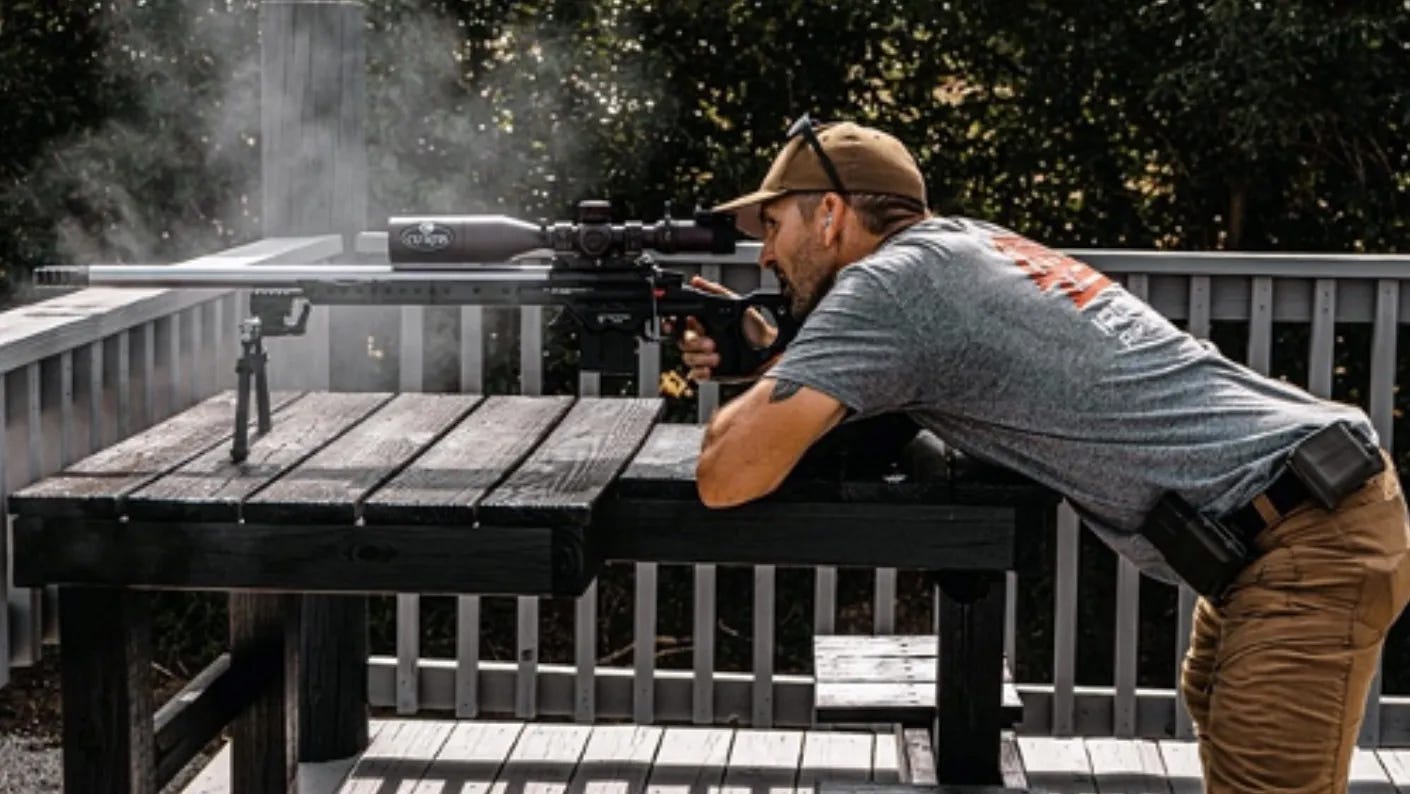 Schmidt has found that competitive shooting skills learned in one discipline transfer pretty well to the next, especially the skills he learned handling a pistol.
Although there were a few skills that carried over to PRS, I had quite a bit to learn. The biggest obstacle for me to overcome was learning to be patient. I know it sounds silly and perhaps like an easy thing to conquer, but I've trained my brain for a long time to get through the stage as quick as possible with good accuracy. Normally running right on the edge of out of control is the goal.
PRS is about staying calm, controlling your breathing, and placing very precise shots a long way away. It really took me the entire first year just to get a handle on this.
4. What's your favorite part about shooting PRS? What itch does it scratch that 3-Gun and USPSA don't?
I think one thing that really attracted me to PRS is the organization of it all. There are national rankings. You acquire points throughout the year, and a season finale at the end of the year where the points leader is crowned champion.
As far as picking a favorite between the different shooting sports, I really couldn't. I really don't prefer any one over the other. However, my elbow prefers that I shoot the rifles more often than the handgun. When shooting handguns, most of the recoil is absorbed through your elbows. When shooting rifles, most of the recoil is absorbed with you shoulder and you body weight behind it.
Until I get this surgery the best way to combat the pain and still be able to compete at a high level is to shoot primarily rifles. That being said, I won't be stopping either USPSA or 3-Gun any time soon. Even if I do the surgery, there's no guarantee that my elbow will ever be back 100%. That's why I haven't had the procedure. Luckily for me it's hung in there this long.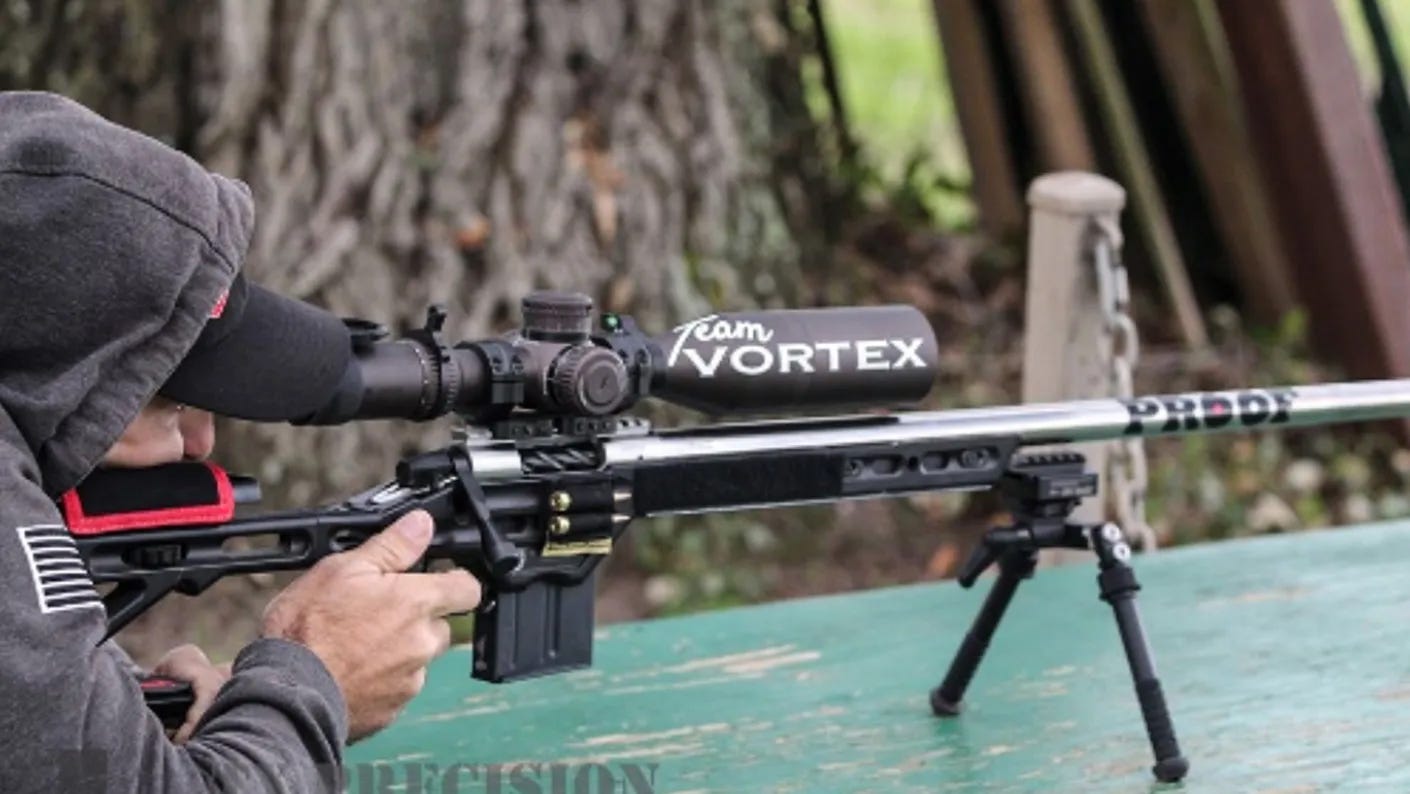 Schmidt says there is no "secret sauce" to improving in competitive shooting. Where to start? Practice, and simply taking the first step and getting involved with competitive shooting.
5. You've started shooting competitive PRS and started placing in competitions very quickly. Any tips for how people can learn the sport faster?
People ask what the secret to success is quite often. Honestly, I don't think there's any "secret sauce" so to speak.
The reason I believe I've been able to advance rather quick in the Precision Rifle world is my background in shooting competitions. Also, because I spend countless hours each week at the range, or at my home practicing some sort of fundamentals.
If I was just starting out now, I would get some gear together (it can be something you already have) and just go shoot a match. Just tell the folks there you are a new shooter and the people there will bend over backwards to help you get started on your journey to becoming a competitive shooter.
Once you get a few matches under your belt, try to find a class to take. This will help prevent you from building any bad habits that will later have to be broken. This can shave quite a bit of time during the process.
Interested in charting your own path into the shooting sports? Checkout our two-part blog series on getting into competitive shooting. ( Part One. Part Two.) Want to learn more about PRS shooting? Take a deep dive with Jimmy and Mark in this podcast.
It's our hope you can learn and laugh along with the expert voices we feature on this blog. We want to be clear that the opinions you see featured here are just that: opinions. The content belongs to the authors and is not necessarily the opinion of Vortex Optics.
To learn more about what you've read, please like, follow, and otherwise support our authors.