Choosing Glass to Conquer Midwest Whitetail Country
It doesn't offer the wide-open skies and mountains of the west but chasing whitetails in the Midwest has rewards all its own.
While it may lack the visual glory of glassing in the mountain west, and you might not be chasing as grand or storied game, whitetail hunters working the corn fields and oak forests of the Midwest encounter plenty of challenges when it comes to choosing the right optics. (Want to go in-depth on the challenges Midwestern hunters face compared to their Western counterparts? Checkout this podcast.) And, while you might not need as much optical horsepower to take a whitetail worth bragging about, Midwest terrain has demands all its own.
So, before your season gets rolling, here are a few optics to consider from the Vortex® lineup, along with some reasons why they work so hard for Midwest hunters. (If you'd rather listen in, check out this 10-minute talk with our podcast team on choosing the right whitetail optics.)
Choosing the right riflescope
While it's true you don't need a ton of magnification to make a whitetail hunt work, other things—like strong performance in low light—make a Midwest hunt a heck of a lot easier.
Even if you plan on sitting in a tower blind overlooking harvested fields on flat ground, you don't need a massive amount of magnification to take a monster whitetail. What you will need, though, is an optic that offers excellent low-light performance, so you can hunt the thick forests, and first and last light, when deer—especially pressured bucks—like to move around the most. (Want to learn more about what makes for great low-light performance? Checkout this blog.)
The Crossfire® II 3-9x40 gives hunters the ideal combination of performance and price, offering long eye relief to keep you on target and fully multi-coated lenses to make sure you get every last bit of light to your eye. You can grab it with the optional V-Brite reticle, too, if you want to make sure you have a point of aim in low light.
A step up in performance takes you to the Diamondback® 4-12x40. You get more magnification to poke out farther, and superior optics in a scope that's become known as a whitetail slayer.
If you're looking for even better optical quality, the Viper® HS™ 2.5-10x44 ups the ante, offering XD Lens Elements for improved color fidelity and crisp, sharp images, and XR Fully Multi Coated lenses for anti-reflective protection. Translation? More light and more color make it to your eye in a configuration perfect for any whitetail habitat.
Want to go more in depth on riflescopes? Checkout this podcast on "All You Need to Know About Riflescopes."
Choosing the right rangefinder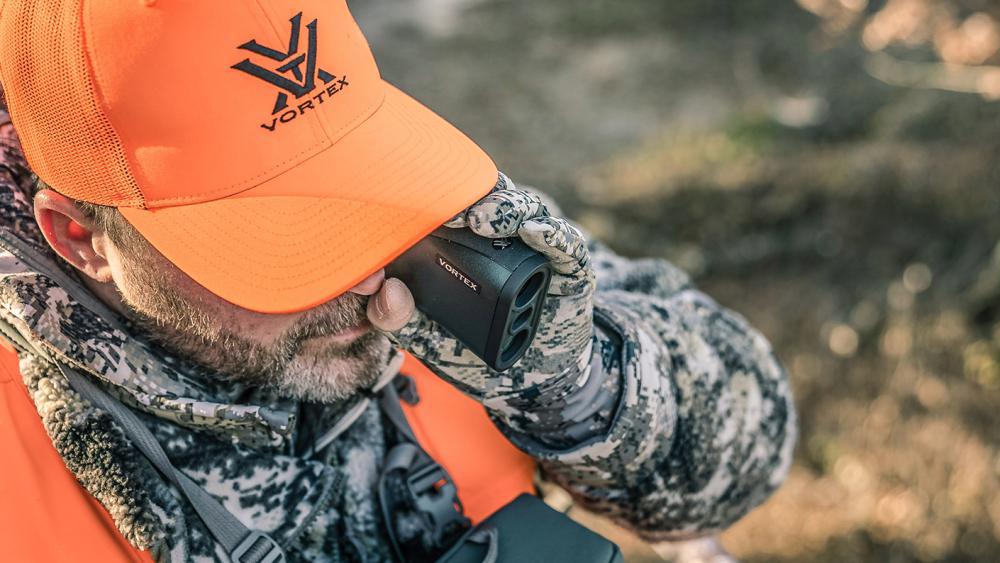 You might not need to range as far on a Midwestern hunt, but you do need the ability to range quickly if game pops up in close.
It's true: Even rifle hunting in the Midwest tends to take place closer to bow range than those jaw-dropping, from downtown shots you see hunters take out west. (If you're a crossbow hunter, we do offer a purpose built crossbow scope kit, the Crossfire® II 2-7x32 Crossbow Kit, that comes with everything you need to start stacking arrows.) But for those who hunt more open ground, and for bowhunters, choosing the right rangefinder can go a long way toward ensuring a successful hunt.
Crossfire® HD 1400 is all the power you'll need in a compact, easy-to-use system that won't get in the way of your hunt. Especially in the Midwest, when whitetail encounters frequently happen at close range and require quick thinking, keeping your loadout simple will keep your hands and eyes free to focus on the hunt.
The Diamondback® HD 2000 takes you beyond 1,000 yards with features hunters love. A 7x magnification brings game closer, and a red OLED light keeps your readings clear even in low light. A built in clip means you can quickly fasten this rangefinder to a pocket to draw your bow or ready your rifle.
For all the distance you could need in white tail country, the Viper® HD 3000 is a powerful, tag-filling machine. A crystal-clear HD optical system lets you enjoy every foot of a 3,000-yard max range. Add four target modes and two ranging modes, and the power just might go to your head.
If you want to learn more about rangefinders and how to pick the right rangefinder, checkout this podcast on Everything You Ever Wanted to Know About Rangefinders.
Choosing the right binoculars
Choose binoculars that can get it done from cornfields to deep woods.
This one is pretty simple: If you need a great pair of binos for whitetail hunting, reach for the Diamondback® 8x42s or the Diamondback® 10x42s. (And, if you need help with your glassing game, check out this podcast, or this blog for some tips.)
Why these two models? They're workhorses, offering the whitetail hunter a durable platform with robust optical features. They're friendly on the wallet, sure, but they're still ideally suited to whitetail habitat, offering plenty of magnification without going so high in power you need a tripod to glass clearly, meaning you can glass on the move. Choose the 8x42 if you want a larger exit pupil (more light getting to your eye) and a wider field of view. Go 10x42 if you need that extra magnification.
If you want to learn more about choosing binoculars, checkout this podcast on "Everything You Ever Wanted to Know About Binoculars."
Choosing the right spotting scope … wait, what?
That's right: Just because you're not glassing sweeping vistas or towering mountains, it doesn't mean you can't benefit from adding a spotter to your glassing arsenal, especially if you're trying to scout summer bucks from a distance. (For more on that, checkout this blog with The Hunting Public.)
A great spotter for the whitetail addict would be the Diamondback® HD 16-48x65, in either straight or angled configuration, depending on how you want to hunt. A spotting scope gives you the power to scout from a distance, and in situations where you don't want to get in close enough to spook wary bucks. They're a great way to let your eyes do the walking, covering a ton of territory from one spot.
For a more compact, packable option, grab a Razor® HD 13-39x56 spotter. Angled or straight, it packs breathtaking optics and raw power into an incredibly small optic. A helical focus wheel keeps it from snagging going in an out of your pack, and an Arca-Swiss compatible foot matches up with most tripods.
In general, choose a straight spotter if you're going to mount your scope on your car window, and go angled if you plan on using a tripod. (If you want to learn more about the differences between angled and straight spotters, checkout this 10-Minute Talk.)
As always, if you have questions, please give us a call, or reach out on any of our social media platforms. We love talking with you, and our team can help get you into the whitetail woods in no time.
It's our hope you can learn and laugh along with the expert voices we feature on this blog. We want to be clear that the opinions you see featured here are just that: opinions. The content belongs to the authors and is not necessarily the opinion of Vortex Optics.
To learn more about what you've read, please like, follow, and otherwise support our authors.