Get the story behind our NEW 2021 lineup
Get the story behind our NEW 2021 lineup
It's an all-new year, and what better way to kick it off than with some all-new gear? We want to help you shoot faster, hunt harder, and take your optical experience to new heights with our all-new 2021 gear. Here's what's coming your way:
Fury

®

HD 5000 AB Rangefinding Binocular with Applied Ballistics

®

: Eliminate the unknown.
Long-range shooters, both competition enthusiasts and hunters, will get all the information they need to place accurate shots with the Fury® HD 5000.
It's smart combining your binocular with your rangefinder, letting you carry less into the field without sacrificing any performance. What's smarter? Taking the guess work out of long-range shooting by pairing that revolutionary new optic with on-board technology and connectivity that gives you in-display wind/drop solutions at the push of a button.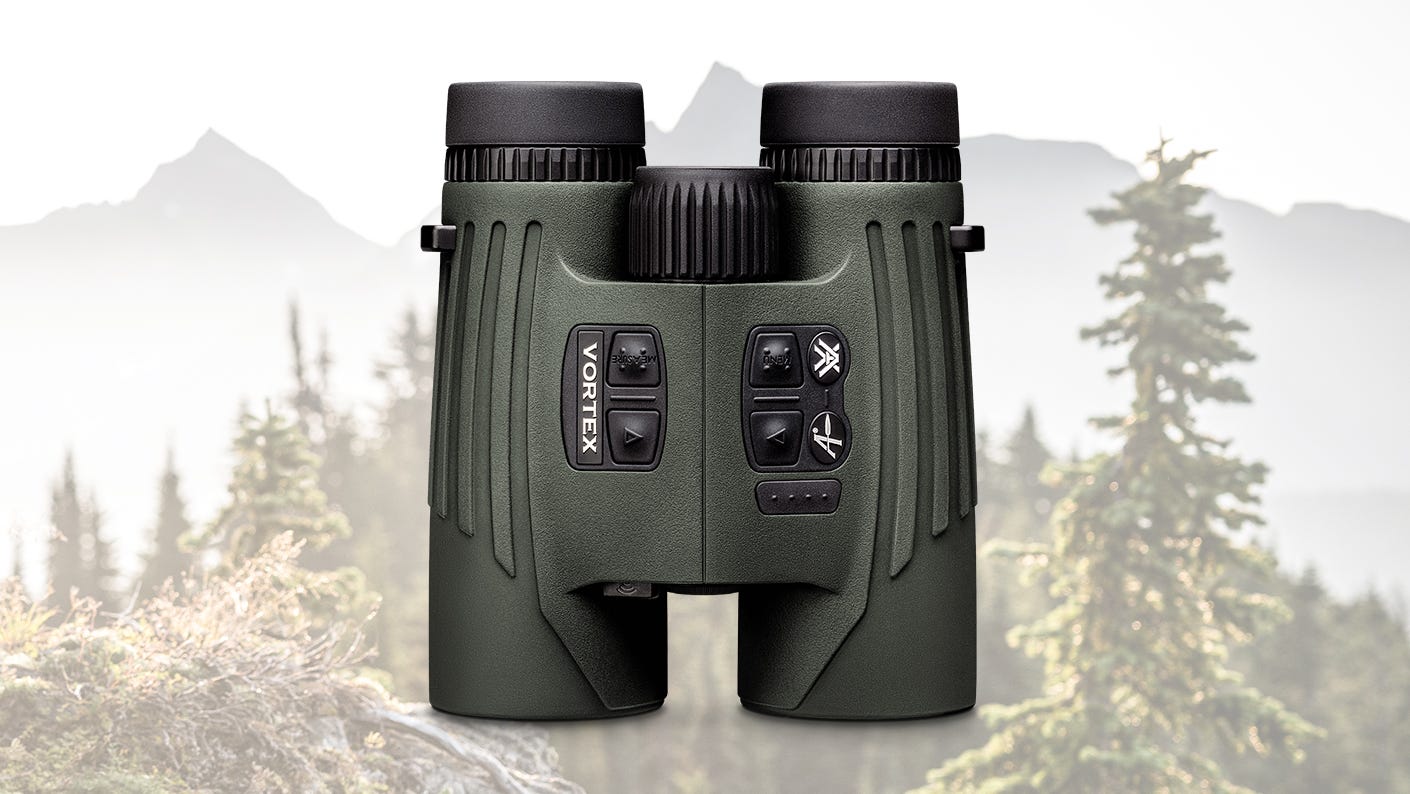 The Fury® HD 5000 AB takes the guess work out of dialing long-range shots with in-display ballistic data, built-in environmental sensors, and Wind Bearing Capture Mode, which means less time calculating ballistics and more time putting rounds down range.
We took our Fury® HD 5000 platform to genius level with the Fury® HD 5000 AB, giving shooters the perfect way to send it with confidence. With connectivity to the Fury® HD App, and Applied Ballistics® onboard, you can link with your Kestrel® or Applied Ballistics® Garmin® device for the ultimate in real-time precision. It's the same stunning HD clarity and 5,000 yard reach, but built to take long-distance hunters and shooters farther.
Learn more about the Fury® HD 5000 AB.
SPARC

®

SOLAR 2 MOA Red Dot: Carry the sun into the storm.
The SPARC® SOLAR harnesses the sun for up to 150,000 hours of battery life, powering a reliable tactical machine that's always ready.
Adapt, conquer and always be ready with a red dot that gives you the simple, intuitive point of aim you need to win. Not only does the SPARC® SOLAR give you the ability to run on solar power or ambient light, our Auto D-TEC technology automatically switches from solar to battery power when the sun alone can't power your optic.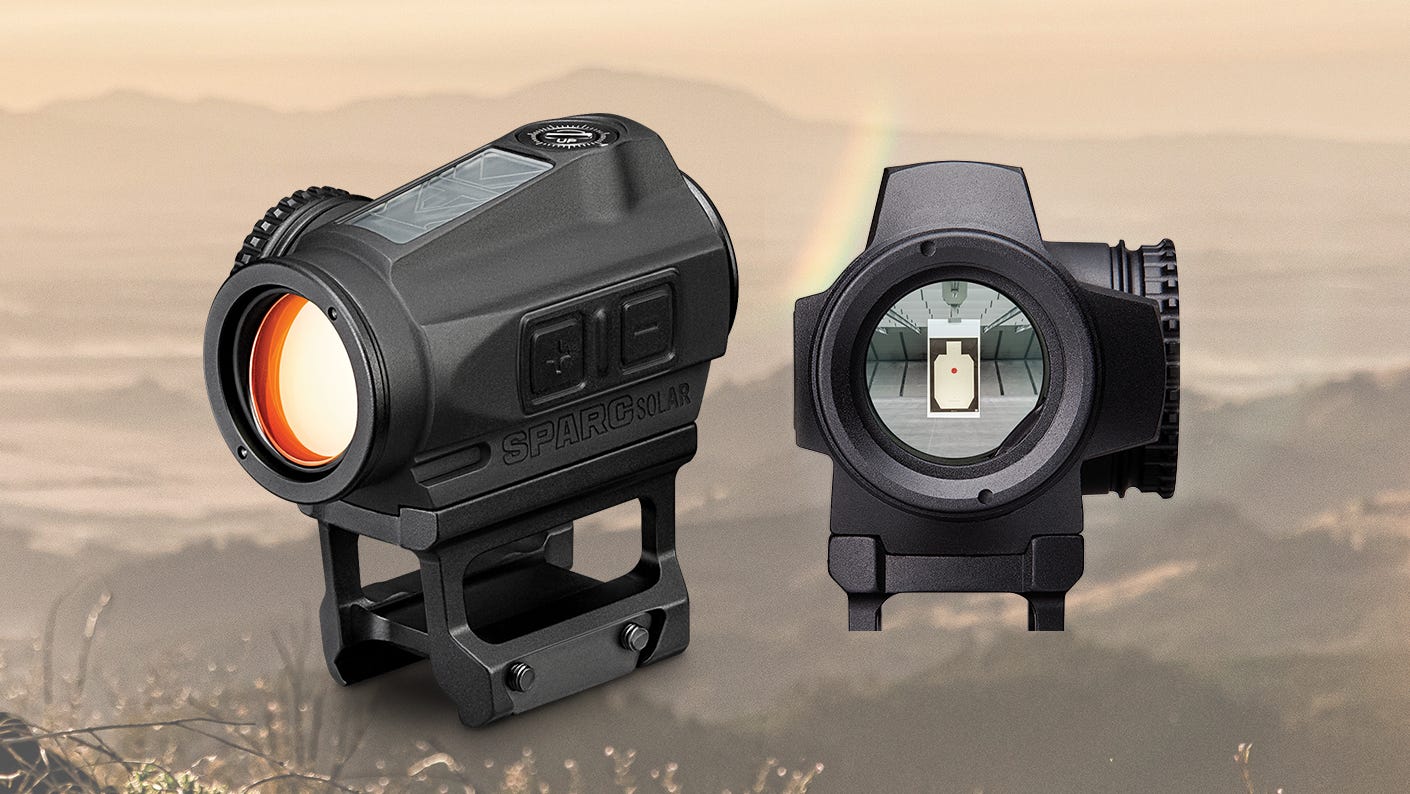 The daylight bright red dot is easy to see and paints targets regardless of lighting conditions or background.
The 2 MOA dot offers a precise point of aim, and you get a full range of 10 daytime illumination settings to dial the brightness to your situation, and two night-vision compatible settings. Plus, you get motion activation capability, so you're always ready, day or night.
Learn more about the SPARC® SOLAR.
Spitfire

™

HD Gen II 3x and 5x Prism Scopes: Built small to go big.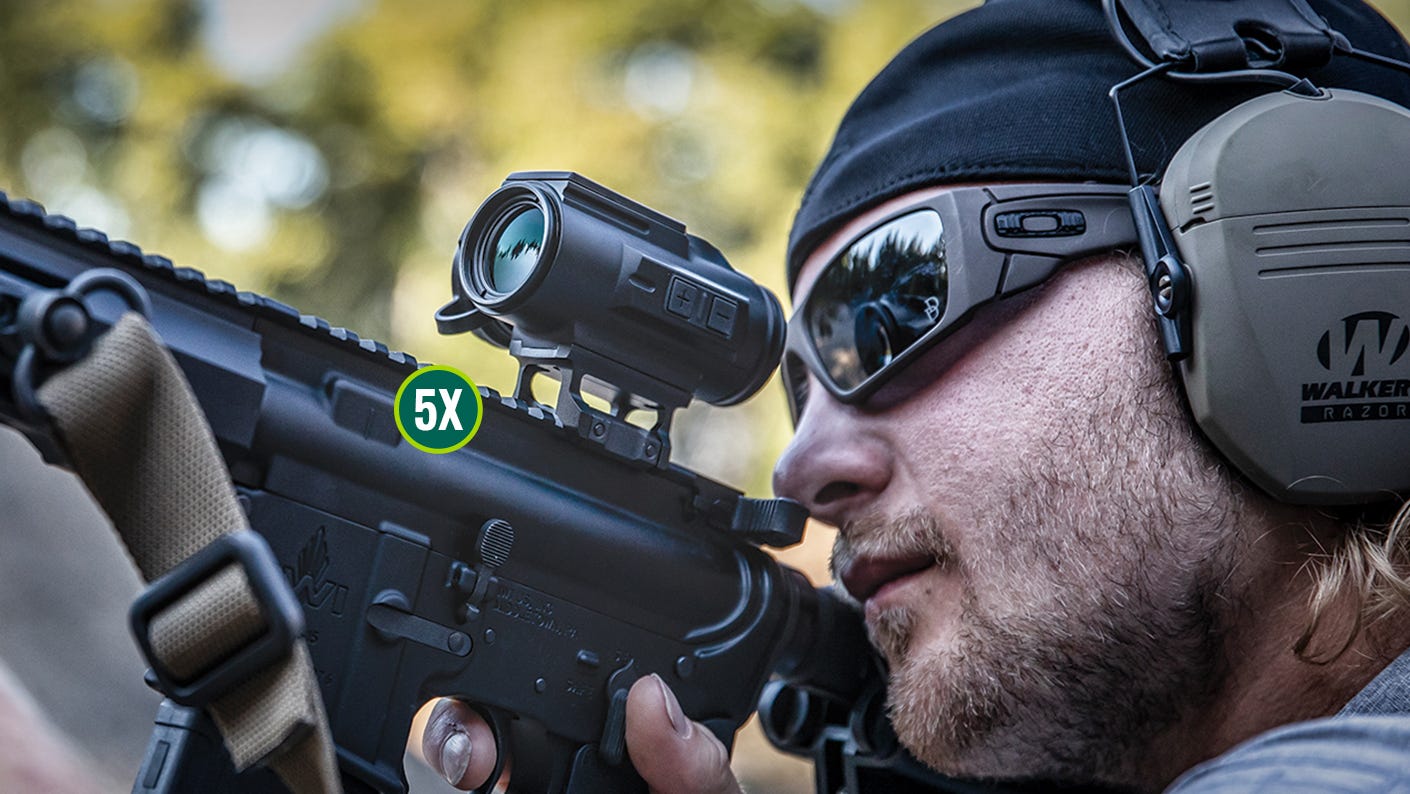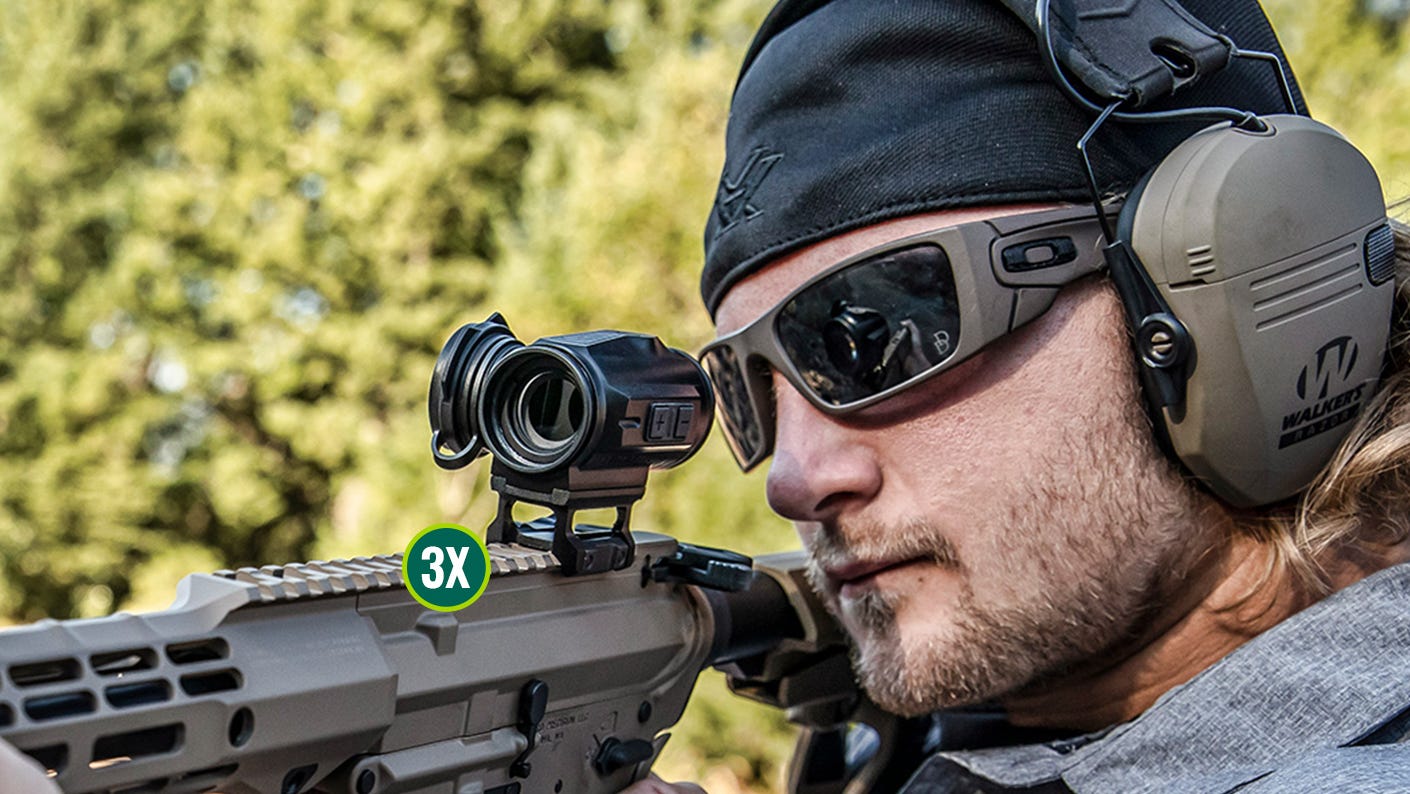 Leaner, meaner, and built to get the most out your AR, the Spitfire™ HD Gen II 3x and 5x prism scopes feature a redesigned HD optical system for a smaller, lighter tactical solution.
Compact. Sleek. Built to fit seamlessly onto your setup. The Spitfire™ HD Gen II 3x and 5x prism scopes are ready to help you wring that last bit of performance out of your AR. You get night vision compatibility, and a BDC-style reticle designed to subtend with most popular 5.56 cartridges for quick holdovers at known distances.
The 3x offers the ultimate in compact, intuitive performance. If you need more, the 5x takes you farther and offers an MRDS mount on top.
Because they're prism scopes with etched reticles, you'll have a point of aim even in the case of battery failure, and you get exposed turrets – no more caps, no more snags. Admit it. You're already picturing one on your go-to.
Learn more about the Spitfire™ HD Gen II 3x and 5x Prism Scopes.
All-New Tripods for 2021: Elevate your optical experience.
Four all-new tripods are ready to take your observation and shooting game higher. Featured above is our Radian™ Carbon, the perfect base for precision rifle shooting and long-range observation.
Radian

™

Carbon: The ultimate in stability, precision, and perspective.
The Radian™ Carbon changes the rules when it comes to getting the utmost finesse out of a rock-solid platform. Fully carbon fiber legs and aluminum construction make for an extremely high strength-to-weight ratio, supporting heavy loads while keeping the Radian™ Carbon easy to pack. Along with great strength, you get great precision with an integrated level. Choose between a ball head or a leveling head to get the articulation and adjustment you need for your scenario along with all the features you need, including Arca-Swiss compatibility and quick release. Whether you're calling shots, or looking for a solid base for your rifle, the Radian™ Carbon makes sure you're ready.
Learn more about the Radian™ Carbon.
Ridgeview

™

Carbon: The height of stability.
Built to be the perfect standup glassing platform, the Ridgeview™ Carbon is designed to take you higher when you need it, while still providing stability through the elevation range.
Ridgeview™ Carbon raises your long-range tools to new heights without sacrificing stability or strength. Built on a carbon fiber frame for higher performance at higher heights, the Ridgeview™ Carbon is our tallest tripod, perfect for standup glassing. When you need stability and strength you can stand behind, put Ridgeview™ Carbon in your pack.
Learn more about the Ridgeview™ Carbon.
Summit

™

Carbon II: Go lighter, go faster, go anywhere.
Go light, and strong, with the Summit™ Carbon II, the ideal glassing platform for those who are always counting ounces.
When every ounce in your pack out counts, count on the Summit™ Carbon II to keep you moving without sacrificing stability. Carbon fiber construction keeps it light and strong, while the four leg sections provide the ultimate in packability, letting the Summit™ Carbon II collapse to a smaller size, yet still go tall enough to get you the height you need. Make light work of your next adventure with Summit™ Carbon II.
Learn more about the Summit™ Carbon II.
High Country

™

II: Own the high ground.
An excellent all-around tripod, hunters, birders, and anyone needing a solid platform will find what they're looking for with the High Country™ II.
The High Country™ II delivers the ideal combination of stability and packability, with a machined aluminum design offering outstanding durability in a lightweight package. For reliable, packable performance, grab a High Country™ II and take the high ground with you.
Learn more about the High Country™ II.
It's our hope you can learn and laugh along with the expert voices we feature on this blog. We want to be clear that the opinions you see featured here are just that: opinions. The content belongs to the authors and is not necessarily the opinion of Vortex Optics.
To learn more about what you've read, please like, follow, and otherwise support our authors.