Jerky Recipes with Jeremiah Doughty
Jerky Recipes with Jeremiah Doughty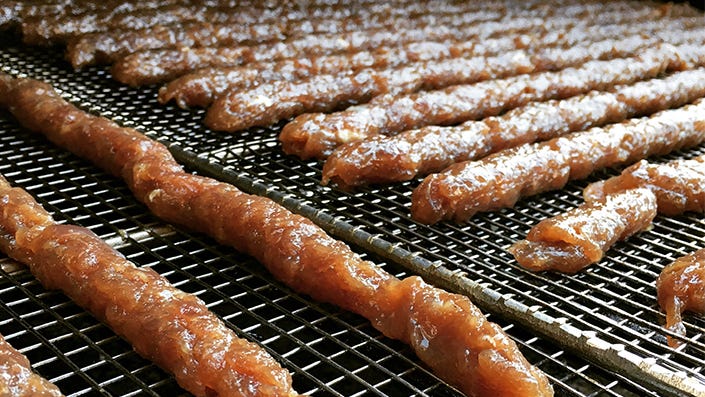 Get Big Flavor Out of Pocket-Size Food
With trade show season, late season waterfowl, and OTC big game tags coming hard these next two months, I wanted to share with you my two go-to wild game jerky recipes.
Jerky is that great pocket food, no matter how much mud or snow you slog through in the field, or hands ya' shake at a trade show, you will still eat it without worrying about anything else but curbing your hunger.
Every year at SHOT show I bring a different type of wild game jerky and have people chasing me down for a small taste of the wild. I've created bear, beaver, coyote, and of course venison jerky in years past. I have something special for this season, stay tuned. But, let's get back to why you're here, the meat baby.
1. What cuts of meat
Most people I've talked to who've had horror stories making any type of domestic or wild game jerky said they used the wrong cuts of meat. But any meat can be turned into jerky with the right care and know-how.
The first thing you'll want to look at when selecting a type or cut of meat to start the jerky making process is fat. Fat can make your jerky spoil at a much faster rate, causing it to become rancid and unsafe to eat. Fat also tends to release more fatty oils when drying, causing the whole drying time to double. If you're taking longer to dry your meat, this will in most cases cause your jerky to be tougher and not pleasant to eat.
Some of the best cuts to look at while making your selection are:
Backstraps
Rumps
Shoulders
Poultry and fish can also be great alternatives to your typical red meat style jerky. Some cuts to consider for fish and poultry are:
Fish: Fish with a low fat content such as bass, pike, and crappie. Try avoiding super oily fish. Any filet can work.
Poultry: Skinless breast meat is your best option when it comes to any bird. I've created duck, turkey, and goose jerky with great results.
2. What style of jerky
Jerky comes in many shapes and sizes. Some jerky has been ground, tenderized, sliced, and diced. This is the preference portion of jerky making. Personally, I love the traditional style of sliced jerky, and that's what I will be focusing on here.
If you would like to know about the other type and how to create them feel free to send me a quick note.
3. What flavor
Here is the best part of creating jerky at home. You can create any Flavor you'd like. Your options are endless on flavor. Creating anything from spicy cracked pepper to sweet smoky flavor.
Now that we have talked about the three areas to consider while picking out what style of jerky you'll be creating, let's get into some of my favorite marinades.
Ingredients:
2 pounds wild turkey (More if you have it, I use thighs and legs)
1 tsp sugar
3 Tbsp granulated honey
1 Tbsp garlic powder
1 tsp cracked pepper
1 tsp smoked paprika
1 Tbsp onion powder
1/2 tsp celery salt
1/2 tsp molasses
1/2 Tbsp of liquid smoke if not using smoker to dry
3 tbsp quick cure
Directions:
Start by grinding your turkey meat through the largest grind plate you have. I use a #32.
Mix in all ingredients. Once fully mixed, place in Ziploc bag and put in the fridge for 12-24 hours. This will allow the flavors to meld and the meat to firm up with the sugars and honey.
Preheat smoker or oven to 150-160.
Using a jerky gun, or piping bag (like you would use for cake decorating) make even lines on your grill grate.
Probe one stick. This will be your temp guide.
Smoke on low until it reaches 145 degrees. This should take 2-3 hours. Drop temp and smoke until meat reaches 155. Pull, and let rest 10 minutes.
Place in Ziplock and put in fridge. This is a key step, it stops the cooking process.
After 1 hour in fridge, eat and enjoy.
Sticks will last 4-5 days out of fridge, 3 weeks in fridge and 6-8 months freezer.
(If using oven or dehydrator, follow all steps, just cook until you reach that magical number of 155. You can dry it longer if you'd like, or finish in a hot oven. The method above is what I use in my pellet smoker.)
Ginger & Garlic Smoked Venison Jerky
Ingredients:
1 pound venison sliced thinly (1/8 inch). It helps cutting if meat is partially frozen.
1 cup soy sauce, low sodium (if you don't, the meat will be very salty)
1 tsp smoked paprika
4 cloves garlic, minced
2 tsp garlic powder (not garlic salt)
2 tsp fresh ginger, grated
2 tsp cracked pepper
1 tsp dried rosemary
1 tsp dried thyme
1/4 chili powder
1 tsp onion powder
Directions:
In a glass bowl, mix all ingredients (minus meat) until fully mixed and blended.
Add sliced meat, and make sure they are covered completely.
Marinate for 4-24 hours.
If you're using your smoker set it to 160.
Remove meat from marinade and place directly on grill gate.
After the first hour of smoking, flip the jerky.
Watch it until it's dried, yet still soft. Around 4-6 hours.
Remove from smoker and immediately place in a Ziploc bag in fridge. This is a key step; it helps the meat stay tender and returns positive moisture back to the meat. If you want a dried, hard jerky, do not do this step. This step will make a soft "store bought" style jerky.
Enjoy! Keep in fridge to help it last longer.
For more mouthwatering recipes, connect with Jeremiah on Instagram, or check out his content on Facebook. If you're interested in learning to hunt with a skilled mentor and chef as your guide, check out his Field to Plate classes.
It's our hope you can learn and laugh along with the expert voices we feature on this blog. We want to be clear that the opinions you see featured here are just that: opinions. The content belongs to the authors and is not necessarily the opinion of Vortex Optics.
To learn more about what you've read, please like, follow, and otherwise support our authors.