When it comes to scouting waterfowl, X marks the spot
With 11 waterfowl fanatics on the team, each averaging 15-20 years' experience chasing birds, Heartland Waterfowl has made a name for themselves hunting North America as far north as Saskatchewan and as far south as Texas. Currently airing its sixth season on the Sportsman Channel (Tuesday Nights at 8:30pm & 11:30pm EST and Saturday's at 2:30pm EST) the team has spent the last six seasons hunting 15+ states, while driving down just about every dirt road in Saskatchewan, Canada.
Cinematography and hunting are our passion, but scouting is our life. On our trips, 90% of our time is spent behind the windshield, and that's the sole reason for the success we have had, especially in areas we are unfamiliar with.
If you are looking to have success in the field, there are a few questions you should be asking while you are out scouting.
Finding the "X"
Where do you start? If you are in an unfamiliar area, you need to look for water, find high ground, and locate the roost. Don't be afraid to get off the blacktop and hit the gravel roads. The further off the beaten path, the more likely you'll find that next great honey hole.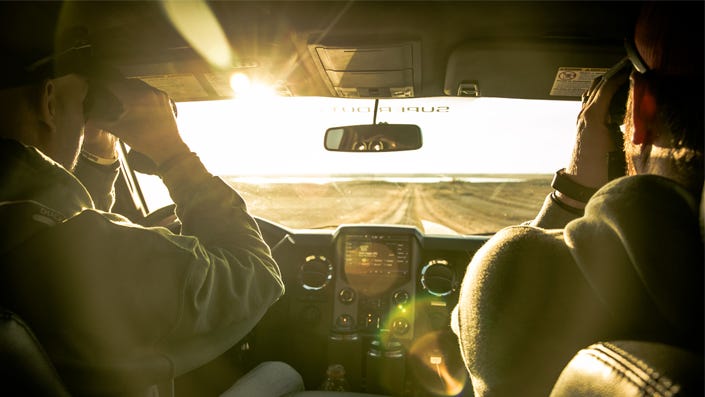 Sometimes, your best bet is to get off the beaten path to scout—you're less likely to see other hunters and that could mean more birds.
Once you have found the roost, the next step is finding their food source. It is easy to get anxious and follow the first couple of groups that leave the roost, but it's best to wait and make sure most of the birds on the roost are leaving in the same direction.
While following the birds in flight, look for landmarks to associate location. If the birds are flying a long way from the roost, it can be difficult to keep up with them, especially if there are no good roads to follow them on.
Once you find the "X", immediately seek permission from the landowner, if it's private property: There is no need to waste time watching birds that you cannot hunt. Unfortunately, you will hear no more than you will hear yes.
The only exception to staying and watching the birds is if you are planning on running traffic. If this is the case, you will want to watch flight lines and make sure you are setup underneath the main flight of birds.
Watching the "X"
Now that "Farmer Fred" gave you permission and the field is loaded with birds, the fun begins! Set yourself up for success and prepare yourself for the next morning by asking yourself these questions:
How many birds are using the field?
Are they coming to the field in big or small groups? How many different groups are there?
Where are the birds sitting in the field?
Is there only one roost or are there multiple roosts joining this feed?
How and where are you going to hide?
What is the projected direction of the wind on the day you're hunting?
Where will the sun rise?
Are your conditions the day you're scouting like the day you're hunting?
Is the farmer allowing you to drive in the field?
How long will it take you to setup?
Answering these questions will help you come up with a clear plan for how to harvest the next day's birds.
Using your Resources
We rely heavily on our binoculars and spotting scopes. This allows us to closely evaluate the "X" and bird behavior. We also use the OnX app for aerial maps, landowner identification, and weather to be more efficient.
Some important factors to consider while watching these birds are where the birds are in the field and roughly how many birds are feeding. You will want to match that as close as possible, try your best to look just like the birds you are watching. We like to drop a pin exactly where the birds are feeding in the field, so that the next day we know right where to start putting out decoys. The field can look totally different in the dark once you get into it the next morning.
Make sure to use resources like GPS apps to drop pins on important locations. The field can look completely different the next morning.
It's also a good idea to drop a pin at the field entrance; that way you know right where to enter the next morning. Also, take note of any low-lying areas, sloughs, fencerows etc. You will already want to have an idea of how you are going to make it to the spot you want to setup. All these little steps now make for an easier setup at 4am.
We always like to take our binos into the field when we hunt. If the birds happen to take another flight path or decide to change fields, we're able to watch them and get an idea of where they are headed. It gives us a starting point for that afternoon's scout.
The most important thing about scouting is, don't be afraid to put on the miles. We typically have multiple (2-3) scout trucks out each day, with each truck designated to a certain area. As an example, one truck may go north, while the other truck goes west. We're not afraid to put on the miles. It's not unheard of for each truck to put on 300-500 miles in one day of scouting in order to find the "right" concentration of birds.
Sometimes we'll find a group of birds but if the hide isn't good and/or the conditions are not right for that next day of hunting, we'll drop a pin on that location so we can look at that field at a later date, then move on to find another field or water that is better suited for us to have a successful hunt. We evaluate each location thoroughly to be sure it's set up right for us to succeed for the next morning hunt.
---


BIOS
As a Second Grader from Marysville, KS, Ronnie Philips was introduced to Upland Bird and Deer hunting by his Grandfather. Several years later, Ronnie's passion for chasing Ringnecks and Bobwhites shifted to Greenheads after his first afternoon in a pit blind outside of Mound City, MO. After 20 years in country radio working as an on-air personality, Ronnie decided to parlay that experience into his passion for the outdoors with the creation of Heartland Waterfowl.
Logan Burditt is a fifth-generation waterfowl hunter with roots in northeast Missouri. He was extremely fortunate to have been raised with numerous, highly-qualified outdoorsmen front-and-center in his life. Logan shot his first pheasant at the early age of seven with a .410 shotgun. He quickly became a fan of all bird hunting and saw his love of the sport intensify while playing college baseball at Fort Hays, KS.