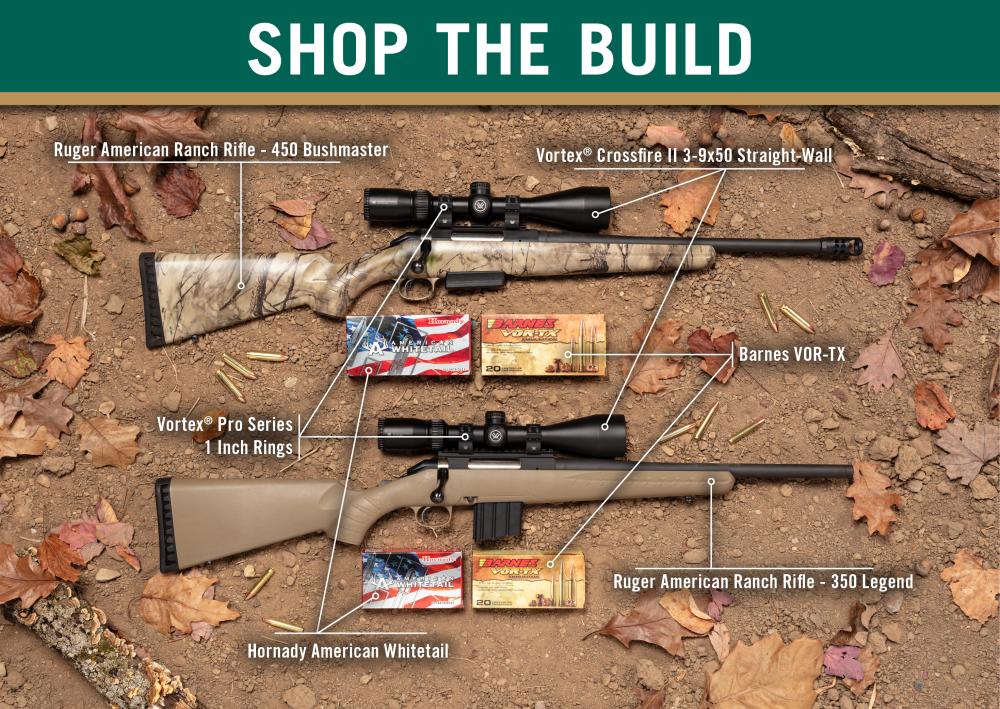 350 Legend vs 450 Bushmaster – Shop the Build
Straight wall cartridges are historic, incredibly effective, and just plain cool. And if you live in a state that's rolled them into deer seasons previously relegated to muzzleloaders and shotguns, may be the best option for bagging your next buck. In episode 5 of Cartridge Talks, Mark Boardman and Ryan Muckenhirn compare two of the newest additions to the distinguished lineage of available straight walls — the 350 Legend and 450 Bushmaster. Pick the one that's right for you and shop the build below.
Ruger American 350 Legend and Ruger American 450 Bushmaster: Renowned for accuracy and practical utilitarian features at an economical price, the Ruger American has an earned reputation for "get it done" performance. On the business end, its cold hammer-forged barrel plays a big part in the precision these things dole out. A one-piece, three-lug bolt with 70-degree throw operates smoothly and reliably. The ergonomic synthetic stock is impervious to the elements and comes in a variety of finishes to suit shooter preference. Intuitive access to the tang safety facilitates a smooth process once the crosshairs are settled and it's time to shoot. The detachable box magazine holds rounds at the ready and feeds reliably. Top it off with the factory-installed, one-piece picatinny scope base and you get a rifle that checks a lot of boxes without emptying your bank account.
Vortex Crossfire® II 3-9x50 Straight Wall BDC: The Vortex Crossfire® II 3-9x50 Straight Wall BDC riflescope is purpose built to maximize straight wall cartridge performance. The reticle's hashmarks are strategically spaced to match the ballistic curve of common straight wall cartridge projectiles, providing accurate holdovers at distance. Reticle is in the second focal plane and easy to acquire throughout the zoom range.
Vortex Pro Series 1 Inch Rings: The rings that fasten the scope to the rifle are an incredibly import component of any shooting system. They are the proverbial glue holding two precision instruments together. We went with the low height, 1" Vortex Pro Series Rings. They are precision machined, reliable, and mount perfectly to the picatinny rail included with the rifle.
These straight wall combinations will straight up perform in the field. Hit the provided links or your local Bass Pro and get outfitted for success this fall.
It's our hope you can learn and laugh along with the expert voices we feature on this blog. We want to be clear that the opinions you see featured here are just that: opinions. The content belongs to the authors and is not necessarily the opinion of Vortex Optics.
To learn more about what you've read, please like, follow, and otherwise support our authors.