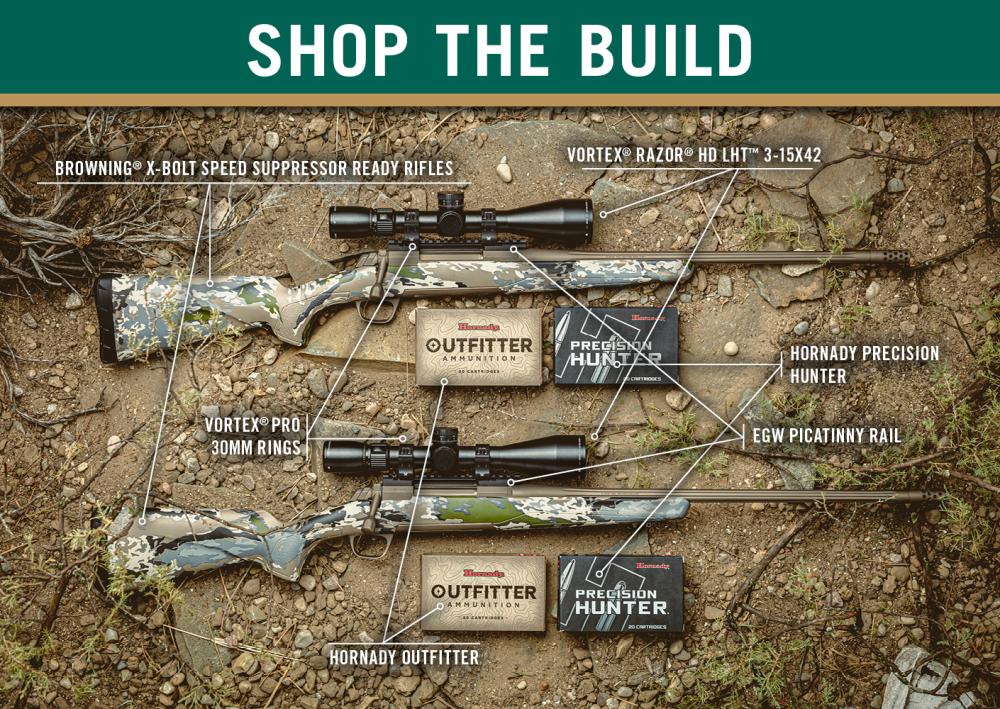 In episode 6 of Vortex's Cartridge Talks, Mark Boardman and Ryan Muckenhirn debate the merit of the 7mm Rem Mag and 7mm PRC.
What you can't debate is the merit of the twin Browning® X-Bolt Speed Suppressor Ready rifles topped with Razor® HD LHT™ 3-15x42's they fired these cartridges from. Accurate, ergonomic, and aesthetically sharp, this rifle system delivered performance rivaling custom options. A virtual turn-key solution to your rifle hunting needs. Shop the build below:
Browning® X-Bolt Speed Suppressor Ready rifles:
Overall rifle length is important when it comes to rifle weight and handiness in the big game woods. A suppressor adds both. Browning accounted for this by taking 4 inches off the barrel. A balanced sacrifice your ears will appreciate once you affix the suppressor of your choice to the business end. The match-grade fluted sporter barrel facilitates faster cooling and further reduces weight. Included radial-style muzzle brake and thread protector let the shooter run this rifle however they please for ultimate versatility. The free-floated barrel is bedded in the front and rear of the action for stability, consistency, and accuracy. External metal surfaces, including the barrel, boast a smoked bronze Cerakote® finish. Durable weather-resistant composite stalk features Browning's OVIX camo, completing its sharp looks and utility. 60-degree bolt lift cycles fast. Detachable rotary magazine, three-lever feather trigger and Inflex recoil pad. Available in cartridges ranging from 204 Ruger® to 300 PRC.
Vortex® Razor® HD LHT™ 3-15x42:
One scope to rule them all. From dark-timber whitetails, to executing precision long-range shots on an open-country mule deer, and everything in between - there's the lightweight, second focal plane Razor® HD LHT™. The stunning, high-definition optical system delivers a crystal-clear sight picture with tack-sharp resolution. How does it attain such impressive optical quality? Index-matched lenses correct color across the entire visual spectrum, XR™ Plus fully multi-coated lenses ensure maximum light transmission, and the ultra-hard, scratch-resistant ArmorTek® coating protects exterior lenses from scratches, oil, and dirt. When it comes to settling the crosshairs, the HSR 5i reticle is deal for those who want enough information to utilize personalized ballistics but prefer a clean look. Fine crosshair subtensions provide the optimum balance between precision aiming and low-light visibility. Waterproof, fogproof, and shockproof. Turn every second of legal shooting light into opportunity with the Razor® HD LHT™.
While the specific rules surrounding pin width are more complicated and varied than you might expect, the net result is that most golf pins are a half-inch or less thick. Especially at distances over 100 yards, that's an incredibly small target. Even the flag on a golf pin is rarely large enough to provide a large target.
EGW Picatinny Rail:
Precision machined from solid 7075 T6 aircraft-grade aluminum and hardcoat anodized, EGW picatinny rails are a premier solution for those who prefer a one-piece base. They are straight, tough, and flat-out work.
Pro 30MM Rings:
Streamlined, lightweight, and durable, Vortex® Pro Rings deliver rock-solid reliability and strength with high-quality machining to ensure ultimate accuracy and consistency. The Type 2 matte black anodized finish fends off the elements year after year and their integrated recoil lug ensures they stay put. Period. Laser engraved torque specifications help ensure proper mounting.
It's our hope you can learn and laugh along with the expert voices we feature on this blog. We want to be clear that the opinions you see featured here are just that: opinions. The content belongs to the authors and is not necessarily the opinion of Vortex Optics.
To learn more about what you've read, please like, follow, and otherwise support our authors.