Versatile, powerful, and just plain fun, the AR is a true icon. But what optic can get you the most out of your rifle?
Near, far, or everywhere in between
In general, you've got three paths when it comes to AR optics: red dots, Low Power Variable Optics (LPVOs), and prism scopes
check out this blog.)
Prism scopes that rely on an etched reticle always provide a point of aim, even if your battery fails. They usually have a BDC-style reticle, ideal for precise holds at distance. They represent a middle ground between a red dot and a magnified optic, but they are fixed power. One final thing to note: prism scopes are a great solution for shooters with an astigmatism. (Check out this podcast to learn how.)
LPVOs can hang with the red dots when it comes to tight spaces, and then turn around and send rounds downrange next to the bigger, bulkier, and higher magnification optics.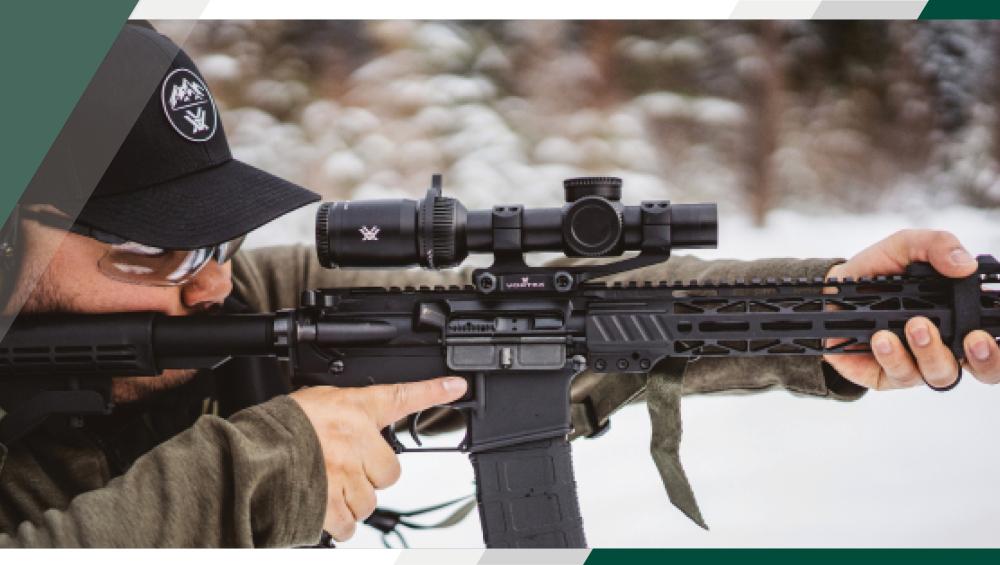 With all the options available, you don't have to sacrifice to get an optic that works for your AR.
Features to consider
Now that you've narrowed your choice down to a particular type of optic, here are three things you need to consider for each:
Red Dots
Dot Size: The dot will come in a variety of sizes, like 2 MOA or 6 MOA. A smaller dot allows for some more accuracy down range, while a larger dot can be easier to pick up quickly.
Body Style: Open top dots are as simple and small as it gets, offering you a point of aim with none of the frills. Fully-enclosed micro red dots offer excellent durability, and full-sized enclosed red dots—while bigger and bulkier—offer a bigger viewing window and more features.
Co-Witness: Co-witness means you can use your red dot and your iron sights at the same time. If your battery fails, you can rely on your irons without removing your red dot. If this is important, make sure your dot has the proper mounting options.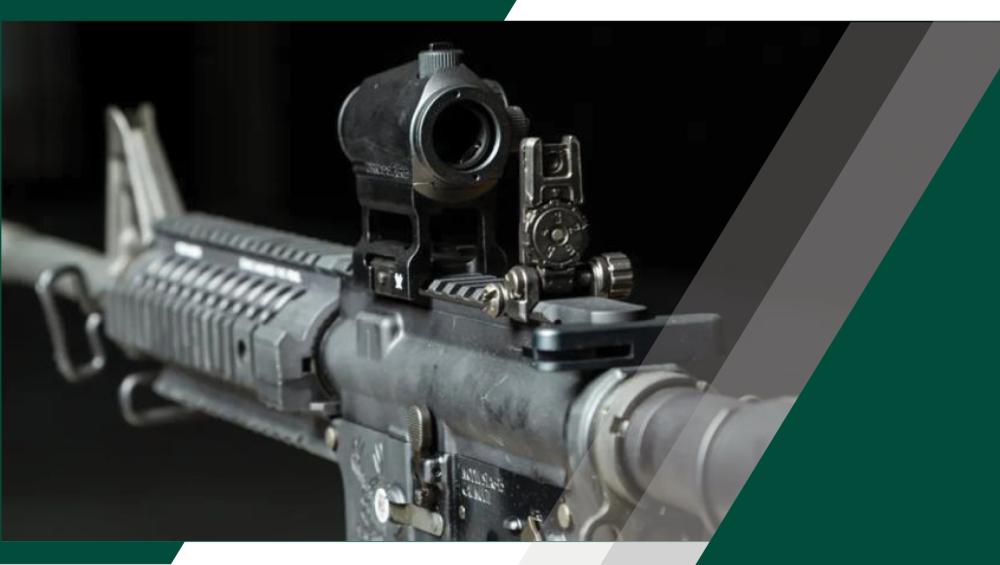 Want to know more about co-witnessing? Check out this blog.
LPVOs
Illumination: If night vision compatibility is important, make sure your optic has compatible modes. If you plan on shooting in the daylight, make sure your optic has daylight bright illumination for clarity in bright sunlight.
Magnification Range: LPVOs can take you from 1x out to 10x and beyond. Decide if you will spend more time at long range or close quarters.
Focal Plane: First focal plane optics ensure the features on your reticle are usable at any magnification. A second focal plane reticle's features will be accurate only at a particular magnification, usually the highest. (For more, check out this blog.)
Prism Scopes
Magnification: A prism scope is always fixed power, so if you frequently need to stretch your effective range, you'll need to reach for something like a 3x or 5x.
Illumination: Prism scopes including an etched reticle always provide a point of aim, even without power. But you still need to choose an optic that has the brightness you need to shoot effectively.
Reticle Features: Are you looking for a simple, clear point of aim, or do you want a more comprehensive reticle? While you're not going to see complicated reticles in most prism scopes, you still have options.
For more help choosing an optic, give us a call at 1-800-4VORTEX, ext. 5. For an in-depth look at LPVOs on ARs, check out this blog. For more on red dots on ARs, check out this blog.
It's our hope you can learn and laugh along with the expert voices we feature on this blog. We want to be clear that the opinions you see featured here are just that: opinions. The content belongs to the authors and is not necessarily the opinion of Vortex Optics.
To learn more about what you've read, please like, follow, and otherwise support our authors.