How to prepare for your first competitive shooting match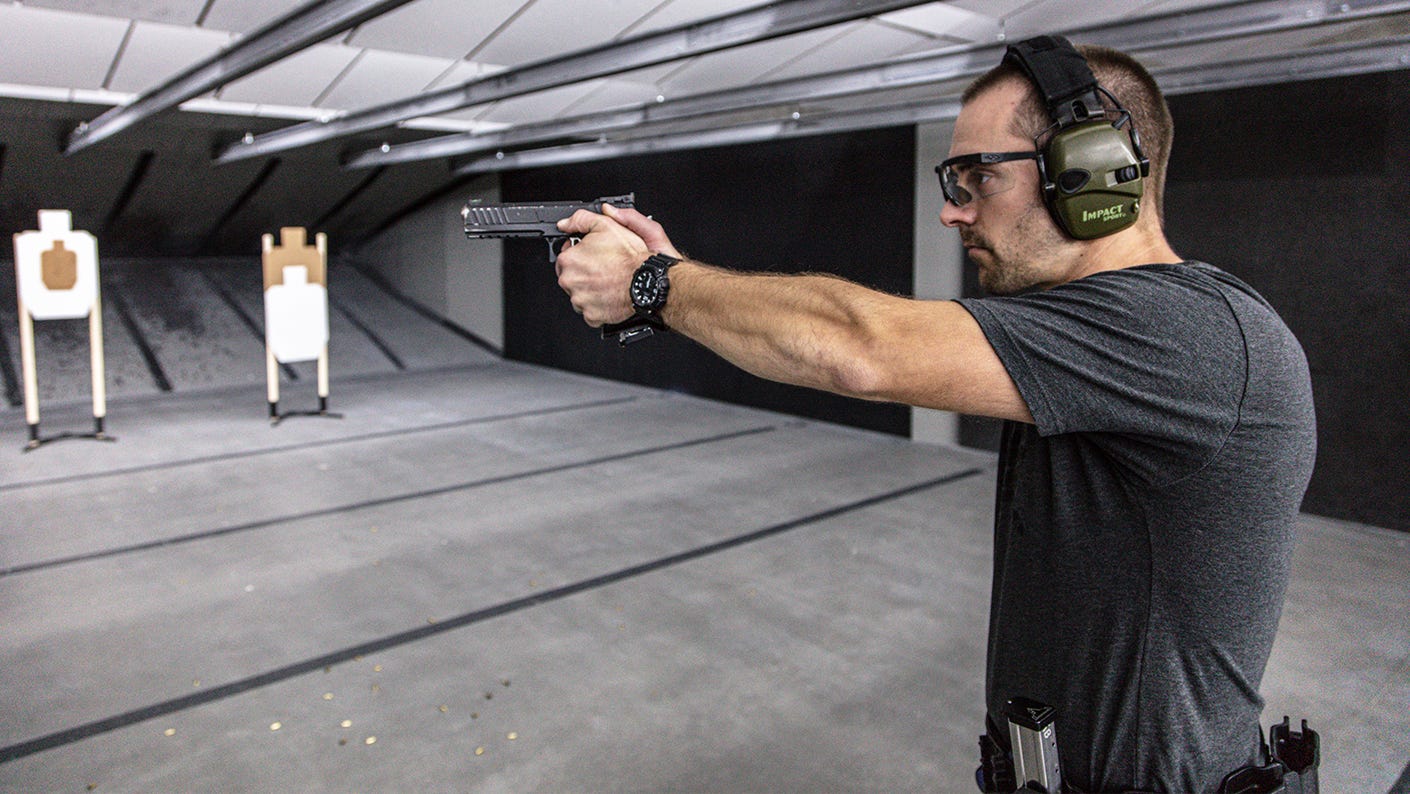 It doesn't take a lot of new gear to get started in competition shooting. All it takes is your interest, and some time at the range.
Get interested
December 12, 2020 started for me with having to use my brand-new snow blower for the first time since moving up to Wisconsin from North Carolina, a state where the mere threat of snow shut down life as we knew it. That morning, Vortex Edge™ was set to host its first ever USPSA match and after I spent an hour or so blowing snow off my driveway, I made my way in.
I'd spent the previous day helping set up a match I did not understand; I just dragged props and targets onto the ranges. I had no intention of competing that morning, and it was only until I was peer pressured by my boss that I just grabbed what I had, loaded mags, and made my way into the shooters meeting.
I ran my Blue Alpha Gear 2 belt duty rig with a setup that would probably not pass inspection, and I did not know the rules front and back. I have competed in 2 way shooting competitions in my time in the Marine Corp and as a SWAT Operator, but I am so new to shooting sports that I am currently unclassified. That said, I have seen what it takes to plan, setup, shoot/compete and breakdown a competition and can offer some things that will help you be better prepared than I was for competing for the first time you shoot your first match.
When it comes to gear, make sure you know which division and in which type of competition you want to shoot.
Get geared up
I competed with a duty rig, but you must be cognizant of your chosen division's rules and regulations for gear and guns. Identify what division you want to compete in and build a competition rig around it. That means reading the rules for your division and understanding them before you build a loadout. As an example, I found out the hard way that the rules at the time for Carry Optics were that your mag holders and holster cannot be in front of your hip bones, so I had to adjust accordingly. (These gear placement rules have since been changed to allow for gear to be attached forward of the hip bones.)
I compete in Carry Optics and run a Gen 5 Glock 17 MOS with a Vortex® Razor® 6 MOA and a Surefire X300U-B. To replace my duty holster, I also picked up a CR Speed competition belt and I am running T-Rex Arms Mars Mag carriers. Considering recent rule changes, I now run a T-Rex Arms Ragnarok I applied the P3 Tactical Speed mod to. I have it attached a Boss Hanger from the Ben Stoeger Pro Shop. I run my mag carriers on ELS forks and receivers which marry up with TekLok on the belt itself. It makes being able to swap things out easier for me. Just the belt and gear alone—and having a dedicated competition set up—made dry fire and competing so much easier for me and it is something I recommend you do.
Also invest in some sort of grip compound. I have used Petzl Power Liquid Chalk as well as Pro Grip. In fact, I would go so far as having a range bag setup with your ammo, grip compound, spare gun parts or a spare gun, and any other creature comforts such as water and some snacks. I have adopted a habit of ensuring my magazines are loaded and my bag is packed and ready the night prior to competition day.
Make sure to read the rules relevant to your competition and your division. But nothing can beat getting in time at the range with someone who can coach you on the rules and on proper shooting technique.
Get your learning in
Along with gear and gun rules, I would study the rules governing the execution of a stage and the buildup leading to your turn. Be aware of safety areas and tables located at your respective venues.
For us here at Vortex Edge™, they are usually up range and facing the walls with tables in front of them clearly marked as safety areas. You can conduct dryfire, but you cannot handle live ammo in the safety area. Outside of the safety areas, I would not handle the firearm at all and leave it in its holster until you receive your make ready command.
That said, the thing I regret not working on the most is having a written, repeatable make-ready ritual. Along with all the dryfire practice you should be doing, I would lockdown step by step what you will do when you get your make ready command.
Mine looks like this:
When I receive the command "Make Ready," I will draw and get a sight picture with every shooting style the stage requires on all targets visible.
I will then insert a mag and get a sight picture with every shooting style the stage requires on all targets visible.
I will then chamber a round, conduct a press check and immediately holster, with my hand on the gun, I will get one final visualization of entire stage at speed, stage my hands, and wait for the very beginning of the beep signal.
Sticking to and practicing this make-ready ritual ensures I am being safe and frees up bandwidth to really dive into a stage plan and surrender to my singular focus.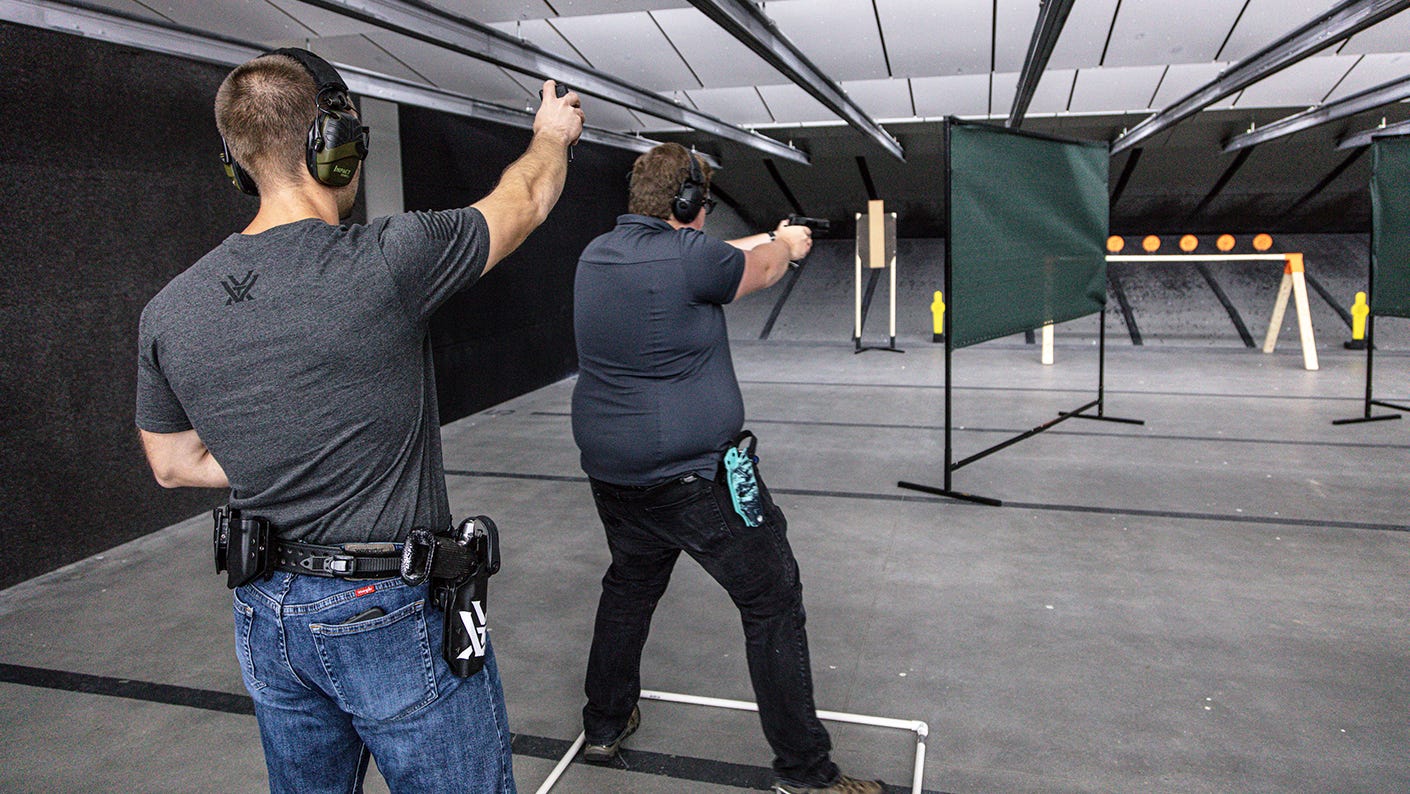 All the reading and practice can't make up for actually getting on the line and shooting. But don't be intimidated! You're joining a community of competitors who want to see you succeed.
Get on the stage
Speaking of stage plan, as you arrive at a stage, pick up and read the stage description, requirements, and execution.
The things I look for are:
How many targets are present on the stage?
Is the stage Comstock or Virginia count and the round count?
Comstock allows for makeup shots whereas Virginia count prescribes a specific round count per target.
I then start to walk the stage and first ID all the targets listed on the stage description and start planning my mag exchanges. I tend to plan mag changes during times of movement, and I want those done as soon as I can to allow for execution of my stage plan.
Then, I begin developing my stage plan and walk the stage. I will dedicate at least five reps of walking the stage to memorizing my stage plan. I want to maximize my shooting positions and not over penetrate the fault lines or allowed myself to get sucked in. I want to be able to shoot as many targets as possible from the places I choose to shoot from. I will then visualize my stage plan as many times as I can before I get to go.
Get involved
Something that I found helps solidify my stage plan is not being afraid to grab some pasters and actively helping with pasting shots on targets and scoring. This gets you onto the stage and really helps in getting to know the intricacies of the sport. Plus, your squad mates will appreciate it.
I would also pay attention to how each target and stage is scored. Eventually, do not be afraid to grab the tablet. Assisting the Range Officer (RO) helps with getting more reps on your stage plan while walking on the stage, and it helps you grow your understanding of the sport.
Something else I would highly recommend is being aware of Practiscore for the match you want to shoot. Not only can you register, but you will often get a heads up on the stages and be able to begin planning and even practicing for specific skills and targets you will see on match day.
Get out there and shoot!
Shooting competition stages has taken my skillset to an all-time high and I have seen vast improvements overall with my shooting.
If you want to take your first steps, I would work on your skillset by dryfiring (Get more on self-defense dry fire drills here, and more on competition dry fire here) and gearing your practice towards your chosen sport. Look up the rules, regulations and invest in good gear and guns for your sport and practice with your setup. Get familiar with the rules of the sport or division you have chosen and establish processes that will help you safely compete and excel.
Last item on your check list for me would be to have fun. I have met some cool people during my couple of competitions who have helped me learn all of this on the fly and answered all my questions.
I hope this sets you up for success and allows you to have a great time competing. If you compete with us here at Vortex Edge™, do not hesitate to come up and ask me any questions. I will answer them to the best of my knowledge and ability. Till then, stay safe.
It's our hope you can learn and laugh along with the expert voices we feature on this blog. We want to be clear that the opinions you see featured here are just that: opinions. The content belongs to the authors and is not necessarily the opinion of Vortex Optics.
To learn more about what you've read, please like, follow, and otherwise support our authors.